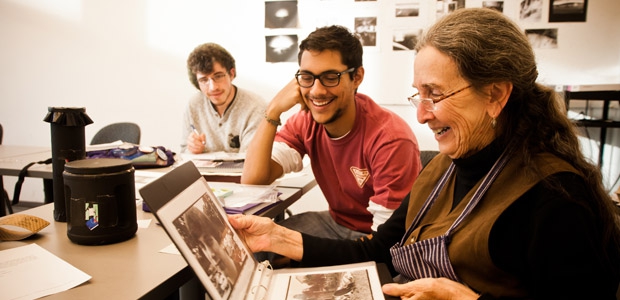 Our photography program is designed for serious fine art students to experience picture-making shaped by the comprehensive study of the art of photography including its processes and technology, history, criticism, contemporary practices and the expressive potential of its unique visual language.
Requirements       Facilities       FAQs     Photo Sample 4 year plan.pdf
We challenge artists interested in photography with a program that is designed to help them encounter their place in life and art, with intelligence, confidence and sensitivity. Each student is given the freedom to pursue their own direction in content and design, through a wide range of genre and media including conventional black and white, color, historic processes, digital imaging, video, and installation.
The Photography Area in the Lamar Dodd School of Art is pushing the boundaries of education in photographic fine arts. Spanning the history of the medium from large format cameras and historic printing processes to the latest in digital technology, mixed media and installation. We have a small, highly selective program, with 50 undergraduate majors and 7–8 graduate students generating innovative new work within the medium.
The diverse and accomplished faculty provides a wide range of views and approaches throughout the course of study. The core faculty includes Marni Shindelman (Chair), Michael Marshall, Mary Ruth Moore, Ben Reynolds, and Stephen Scheer, and is supplemented by recognized visiting professors. Each faculty member pursues creative, personal research and exhibitions along with their teaching.
The small size of our program, with just 10–15 students per class, creates a unique atmosphere. Our close-knit community fosters a supportive environment for experimental work derived from each student'­s goals and personal inspiration. Each course provides not only the technical tools of the photographic medium but also the conceptual discussions and applications to put those tools into use. One-on-one attention is present at all levels to support each student in their development as working artists.
---
Area VI: ARHI 2400, ARST 1040, ARST 1050, ARST 1060, ARST 1070, ARST 1080, ARST 2210
Area Admission Requirements: Portfolio Review for Photography
Studio Electives: 18 hours of ARST courses at the 2000/3000/4000 level
Major Courses: 24 hours of Photography Area courses. 9 hours of Photography Electives. See www.bulletin.uga.edu for full description.
Art History: 9 hrs ARHI 3000/4000 level (take two 3000-level courses before enrolling in a 4000-level course)
Find detailed BFA degree requirements for each area of emphasis here.TOP
---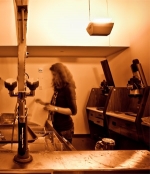 In the summer of 2008, the Photography area moved into the new Art Building on south campus, next to the Georgia Museum of Art. These new facilities offer almost twice the space of our old building, and expand the resources that are available to students in our program. Our new space consists of a central hallway that serves as an exhibition space for recent work from our classes. Off the main hallway on the second floor are several workspaces including the introductory/intermediate lab and classroom, the digital photography classroom, the advanced lab and classroom, the equipment supply room and the graduate research studio. On the third floor is the print finishing room and the lighting studio. Each space has been designed in an open workflow utilizing a great deal of natural light, with attention to safety and ventilation throughout.                  
The introductory and intermediate lab consists of a large centralized film processing area with three film loading rooms, a working print evaluation center with gallery lighting to evaluate works in progress, film and print drying spaces and a full chemical supply and storage room. A large gang darkroom services this space with 18 workstations.
Directly across the hall from the introductory/intermediate lab is our digital classroom. This lab includes 17 Power Macs, flatbed scanners, desktop printers, a film scanner, a 24" large format printer and dual digital projectors for clear viewing of instruction from every workstation.
Our advanced lab is our most extensive facility. It includes six private darkrooms for color printing, and four larger individual darkrooms with sinks for both black and white and color printing. All of these rooms have 4x5 color enlargers with a range of lenses to accommodate all camera formats. Several of these darkrooms have multiple enlargers to accommodate dual printing. An automated color print processor services printing in color, handling prints up to 30 inches wide by any length. An open common area houses the print processor as well as a film processing sink, a print washing sink, student storage lockers, film and print drying areas, light tables and a dry mount press. The advanced digital printing lab is connected to this space. This lab consists of three Mac G5 workstations each connected to a large format inkjet printer, handling prints up to 44" wide. It also includes a flatbed scanner, an Imacon film scanner, and equipment for calibrating and profiling a complete digital workflow.
The equipment checkout room houses all of the equipment that is available to students who are majoring in photography. This includes medium and large format cameras and accessories, tripods, lighting equipment – strobes and hot lights, digital video cameras, digital video projectors, and digital cameras including a 32 mega-pixel digital back on a medium format camera.
Just above the main photography area on the third floor is the Photography Lighting Studio. This versatile space has a full wall of north facing windows for natural studio lighting, as well as a full array of strobes and hot lights for studio photography work. Adjacent to this space is the print finishing room that includes matting and framing supplies as well as a copy stand and camera.
Student Photography Association
The Student Photo Association is a club whose mission is to support the education of students enrolled in the BFA Photography program at the Lamar Dodd School of Art.
The club holds regular meetings, sponsors exhibits, and presents a print sale each semester. The club also sponsors the exiting seniors' exhibit reception and purchases equipment for the photography lab. Club members and students are encouraged to attend the Society for Photographic Education regional and national conferences each year, and the club supports travel to these conferences.
---
Application Process
Portfolio Review in Photography
Due to limits in available resources, only a limited number of students can be admitted into the photography major each semester. Before taking any classes in the photography area, prospective majors must first complete the year long foundation program. Click here for more information on the foundation program. (exceptions may apply for transfer students).
Students must be currently enrolled in ARST 2210 Introductory Photography, or have completed an equivalent course to apply to the major. Prospective majors are thus encouraged to take the Introductory Photography class as soon as possible following the completion of their foundation courses and acceptance into the Art Department. The Introductory class will help students prepare their application portfolio to be accepted into the Photography Major.
The Portfolio Submission
The application portfolio is made up of 12-15 prints of recent photographic work. In most cases this portfolio comes directly from your course work in the Introductory Photo class, with an emphasis on your most recent work. Your instructor will help you prepare this portfolio. In addition to your portfolio, your grade point average, performance in other art classes, and recommendations from your photography course professor will be considered.
The Review
Reviews to be accepted into the photography major are held at the end of each Fall and Spring semester, typically the first week of December and the last week of April. The review committee is made up of the photo area faculty and graduate teaching assistants. Results of the review will be posted immediately following the review. Those accepted into the major will be expected to attend a brief "new majors meeting" and enroll in the Intermediate Photo class the following semester.
More Information
Information meetings are held in the middle of each fall and spring semester. Signs will be posted around the art building announcing this event. Everyone is welcome to attend this informational meeting regardless of where you are in your studies.
For additional information or specific questions you can contact any of thephotography area faculty at any time.
Student Profile
An individual who is serious about looking at the world and making art in the context of photography. One who is self-challenging and intellectually motivated.
Must demonstrate creativity and high visual acuity in picture-making. Must be willing to learn and apply aesthetic concepts that are inherently related to the techniques and processes of the photographic medium. Must be resourceful, welcome experimentation and be able to work independently. An ability to articulate ideas clearly and express oneself confidently is expected.
Employment
Photography majors will be well prepared to continue their work out of school or to attend graduate school where the required MFA degree for college level teaching can be earned. The intensive technical training of the photography major, critical dialogue, the internship program and the senior exhibition and portfolio all contribute to preparing the BFA graduate for professional work in today's multi-faceted field of photography.
Courses for Non-Majors
Due to space limitations open enrollment in ARST 2210 Introductory Photography is reserved for art majors who have completed the foundation classes and passed the art major portfolio review. Occasionally we are able to offer some seats in one section of ARST 2210 Introductory Photography to non-art majors. When resources are available, this will be clearly indicated in the schedule of classes. If it is not shown, then we are not able to offer it, and you will need to follow the guidelines below to pursue entrance into one of our classes.
If there is still space in an Intro Photo class on the first day of the term, then the instructor can, at his or her discretion, sign an override for non-art majors to enroll in the class. If you are not an art major and are interested in taking the introductory photography class, attend the first class of the semester and inquire about available space.
All upper level (3000-4000) photography classes are limited to photography majors who have been accepted through the photo portfolio review.