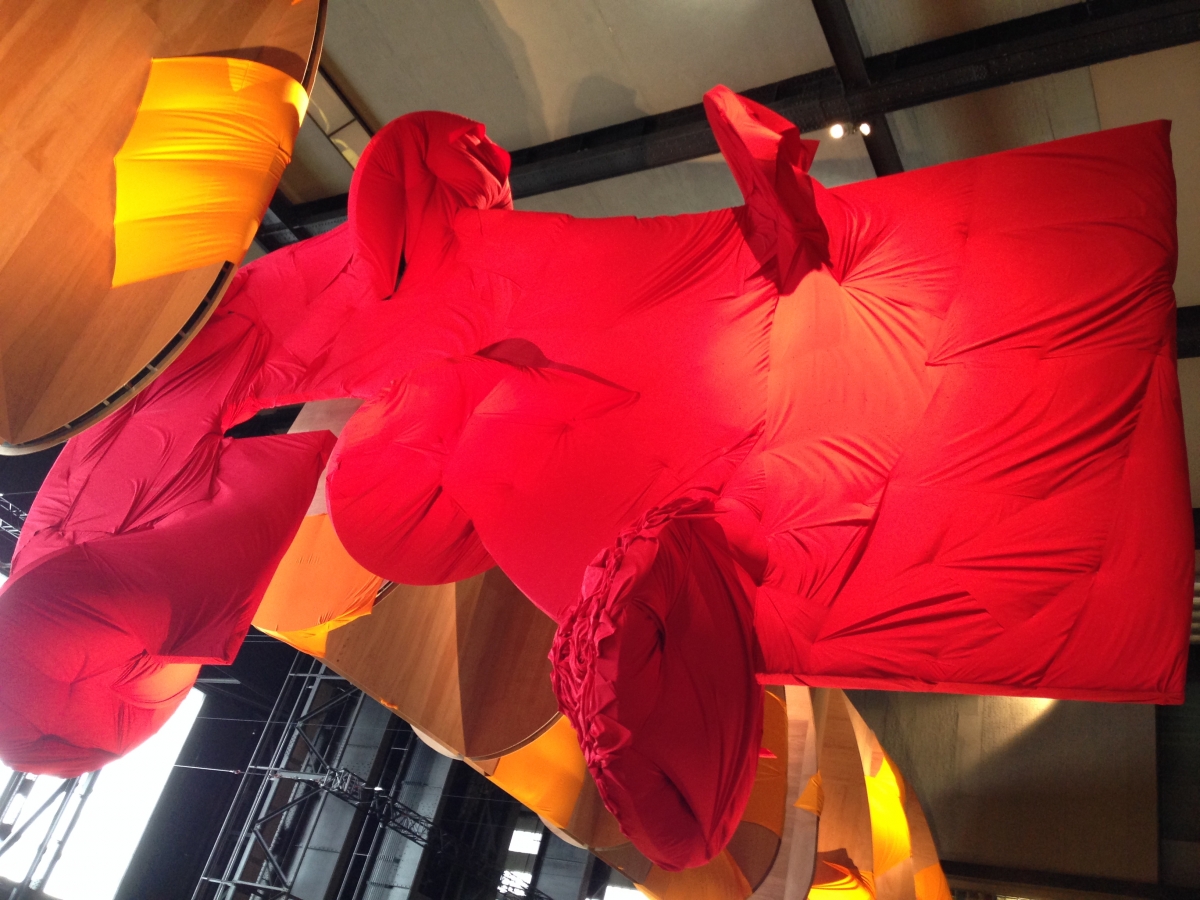 RICHARD TUTTLE, I DON'T KNOW: THE WEAVE OF TEXTILE LANGUAGE, 2014. INSTALLATION VIEW, TATE MODERN. PHOTOGRAPHS COURTESY OF LAURA LAKE SMITH
Student Profile: Laura Lake Smith
PhD in Art History, 2017
Laura Lake Smith arrived at the Lamar Dodd School of Art with a clear goal. As stated in her application to the PhD program, it was her intention to write a dissertation on the work of contemporary American artist Richard Tuttle. Entitled Imaging the In-between: The Serial Art of Richard Tuttle, that dissertation was completed and defended in spring 2017, the culmination of a long and rewarding journey toward understanding the work of one of the century's most enigmatic artists.
Smith came to the Dodd with a masters degree from Vanderbilt University and having held a position as Assistant Professor at Lipscomb University in Nashville. It was during her time at Lipscomb that she met Richard Tuttle, who was giving one of the university's annual lectureships on contemporary art. She became intrigued by the unfinished aesthetic and seeming incoherence of his work, and, in fact, it was Tuttle's curious art that compelled her to pursue further study in the field of art history. As Smith puts it:
"My coursework in art history had focused on ancient art to early 20th-century European and American art, but Tuttle's work seemed to exceed the methods of art-historical interpretation in which I had been trained. I believed that coming to terms with Tuttle's puzzling art would require a new intellectual framework, which the program at UGA certainly afforded me. Ranging from classes on ancient Indian art and religion, to modern and contemporary art, theory, and philosophy, my coursework at the Dodd was broad in scope and introduced me to new and different ways of thinking about the long history of art. Importantly, too, my coursework honed my thinking about Tuttle's art, and in a graduate seminar on contemporary art taught by my advisor, Dr. Isabelle Loring Wallace, a set of formative questions about Tuttle's work began to emerge. This seminar and the research paper I completed for it eventually led me to explore Tuttle's oeuvre in terms of a paradoxical and unorthodox mode of seriality."
Ultimately, Smith's research connects Tuttle's serial process with contemporaneous movements in the field of philosophy and concludes that;
"Tuttle's serial art depicts something that is not unlike philosophical inquiry, which is also an ongoing means of investigating the nature of knowledge and the circumstances of life." 
The originality and significance of Smith's research was recognized in 2015 by the American Council of Learned Societies, which awarded her a Luce/ACLS Dissertation Fellowship in American Art. A highly prestigious award, this fellowship is granted to ten scholars annually in an effort to support the most promising research in the field of American art. No less impressive are Smith's accomplishments in the classroom. As a doctoral student, she often taught the introductory art history survey course, inspiring dozens of students to major in Art History. Moreover, in 2014 she received a teaching award in recognition of her pedagogical gifts and was invited to teach a course at Emory University in Atlanta. With an eye to training the next generation of professors, the School of Art asked her to assist in the development of a new course on pedagogy for incoming graduate students. "I am grateful for the many opportunities I have had these past years to teach and to hone my abilities as an instructor," said Smith, "but I was also incredibly fortunate to have had professors in the program who modeled what it means to be an engaging and stimulating teacher. What is more, they are also exemplary scholars who have produced challenging work in their respective fields. As I embark on a professorial career, I hope that my future teaching and research will reflect something of what I have been privileged to learn from my mentors here at the Dodd."
As of August 2017, Smith is Visiting Professor and Teaching Associate in Art History in the Department of Visual Arts at Coastal Carolina University in Conway, SC.
RICHARD TUTTLE, I DON'T KNOW: THE WEAVE OF TEXTILE LANGUAGE, 2014. INSTALLATION VIEW, TATE MODERN. PHOTOGRAPHS COURTESY OF LAURA LAKE SMITH