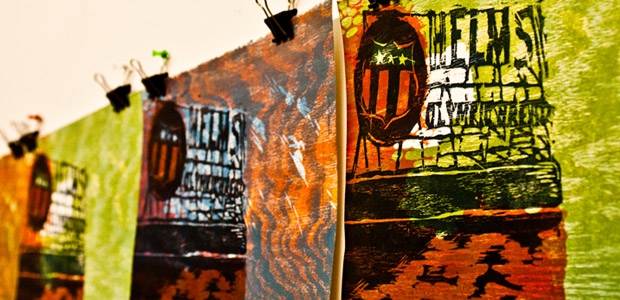 Students will develop technical competence in the diverse skills associated with most major fine-art printmaking processes including intaglio, relief, screen printing, digital printing, letterpress, book arts, papermaking and lithography.
The printmaking and book arts concentration provides a student the opportunity to conduct an intensive investigation in a professional studio environment. Sample four-year plan. (pdf)
---
Housed in the Lamar Dodd School of Art, the Printmaking and Book Arts Area occupies six separate studios on two floors occupying almost 10,000 Sq/ft of floor space.  Nearly all of our studios offer large windows with natural lighting and excellent ventilation. 
Graduate and Faculty Studio
Private studios for faculty and graduates surround 2,000 Sq/ft of shared space with a composition/printing area as well as critique/lounge space for grads.  The Grad/Faculty Studio houses a 36"x72" Takach Intaglio/Relief Press, a 32"x60" Takach Lithography Press and 48"x60" TMI Vacuum Screen Table with a false arm. There is also a drying box for flattening prints up to 30"x44".  The crit/lounge area has a built-in digital projector for looking at art/videos, surfing the web and watching sports.
*We also have the essentials: a dorm fridge, coffee maker and a toaster.
Digital Output Lab and Archives
Our Digital Output Lab is equipped with three large-format archival ink jet printers.  An Epson 7880 capable of printing up to 24" wide as well as an Epson 9880 and 9800, each capable of printing up to 44" wide.  We also have an Epson large format flatbed scanner and Cannon laser printer and four 22" Apple IMacs. 
Lithography Studio
A 1,200 Sq/ft studio in which Introduction to Lithography is exclusively taught.  There are two Takach Lithography presses, a 32"x60" and 24"x50".  This room also houses our selection of lithography stones, a large graining sink and a large oven for curing toner washes.
Intaglio and Relief Studio
This is a 3,000 Sq/ft studio, which functions as the hub of our undergraduate program.  This studio has a Takach 36"x72" Intaglio/Relief Press, a 32"x60 Takach Intaglio/Relief Press, and 24"x52" French Tool Intaglio Press.  This studio houses our Ferric Chloride baths, of which we have two; a vertical bath for etching plates up to 18"x24" and a large horizontal bath for plates up to 36"x24".  There is a large spray booth for using air-born toxins in our solvent room.
Screenprinting and Dark Room
Our devoted Screenprinting studio, which has about 2,500 Sq/ft of space, is equipped with multiple fixed and mobile printing stations.  There's also a large 48"x60" Cincinnati Vacuum Screen Table with a false arm.  The adjacent Dark Room facility is well equipped for nearly all photomechanical printing processes.  We have two vacuum exposure units for screens: a large Lawson 48"x72" and a NuArc 30"x40".  We also have 38"x45" Rotary Top Nuarc Platemaker for Photo-litho and Photo-etching processes and a Photo-Polymer Platemaker for letterpress.  In the adjacent room there is large AWT screen-drying cabinet, a screen-stretcher and backlit washout booth for cleaning out screens.
Letterpress Studio
Located on the 2nd floor next to the grad/faculty studio - it houses a large library of type and type-faces w/ three motorized Vandercook letterpresses.  There is also a polymer plate maker located in the dark room for processing and developing polymer relief plates for letterpress use. 
Papermaking and Book Arts
Located on the 1st floor with over 2,500 sq/ft of floor space, the Papermaking and Book Arts studio houses two large paper beaters, including a Hollander.  There are several book presses, large paper cutters and all manner of book-making equipment.
Project Space and Archives
Across the hall from the Grad/Faculty Studio is our Project Space and Archives.  This room is multi-functional and is used for staging, installing, exhibiting and critiquing work.  This space can be reserved by faculty, graduates and undergraduate majors for as little as one day and up to two weeks.  It also houses our printmaking and book arts collection, which is used primarily for teaching purposes.
Printmaking Student's Association
PSA is an graduate and undergraduate student organization, which receives funding through UGA's student governance body.  All printmaking and book arts majors are automatically accepted for membership.  The club is extremely active in fundraising efforts in order to fund student-organized trips to printmaking conferences including Southern Graphics Council International and the Mid America Print Council.  PSA also invites 2-3 visiting artists to the Printmaking and Book Arts Area every year in order to engage with students in a print-based project, as well as providing a lecture, critiques and occasionally an exhibition of their work.
Student Profile
A person who is keenly interested in art, particularly using printmaking as the primary medium of expression. Must be self-disciplined and persevering with an interest in expressing themselves skillfully and aesthetically in a variety of print media. Should be intellectually curious and have an experimental and innovative attitude. Drawing ability and a sense of design are essential along with the ability to accept direction and criticism.
Employment
Exhibitions with professional galleries and juried competitions are encouraged. The portfolio exit requirement allows the student to approach galleries and art centers for representation. The archival aspect offered through printing, book arts and papermaking should position the student as a responsible and serious candidate for museum or gallery employment. Printmaking majors may enter the areas of private and non-profit print workshops, or attend graduate school where the required MFA degree may be earned for college level teaching. At the BFA level, certification is required to teach elementary and high school art.