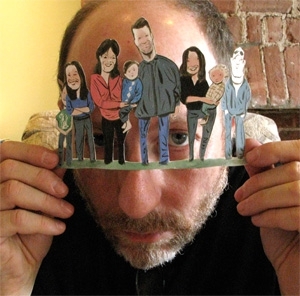 Mar. 20, 5:30PM: Please make plans to join us for the 2014 Jack Davis Distinguished Visiting Artist Lecture. 
Steve Brodner has had a wide ranging career commenting on the American cultural and political scene. In the process he has published a number of books. "Fold 'N Tuck", an outgrowth of his regular Esquire page, was published in 1990 by Doubleday; his animated film and book "Davy Crockett" was produced by Rabbit Ears Productions in 1992; he illustrated "Sharing the Pie" by Steven Brouwer which was published in 1997 by Henry Holt, and his collected political work was published in "Freedom Fries", by Fantagraphics Books, 2004. In 2011, "Bingsop's Fables", by the sharp-toothed humorist Stanley Bing, featured a book full of his drawings set to tales from the Darwinian world of business. "Artists Against the War", published Jan. 2011, is inspired by the exhibition by the same name at the Society of Illustrators.
Steve likes film. His documentary short "September, 2001" was shown in conjunction with the Sundance Film Festival, 2002; a series of 28 "Naked Campaign" films was produced for The New Yorker's website with collaborator Gail Levin and Asterisk studios, 2008; a series of short political films for PBS' Need to Know, 2010-2011, written and directed by Brodner, with production by The Refinery.
Here are some other high points in Steve's career as an illustrator:
• In 1996 Brodner was a commentator in PBS's Frontline documentary about the presidential election, "The Choice", in which he drew on camera.
• In 2004, guest appearances on This Week with George Stephanopoulos, The Leonard Lopate Show, PBS Chicago etc.
• Was the subject of a major career retrospective at the Norman Rockwell Museum, Jun-Oct. 2008, with commentary by Charles Sable, curator, at the time:
• Lecturing at Savannah College of Art and Design, 2009
• Numerous awards from the Society of Illustrators, Art Directors Club, SPD, SND, American Illustration, Communication Arts.
• The 2000 Aronson Award for Social Justice Journalism, Hunter College, NY.
• 2005 Society of Illustrators Hamilton King Award for best art in show by an SI member.
• 2007 Reuben Award from the National Cartoonists Society for Best Magazine Illustration of the Year.
• 2010 St. Gaudens Award for Alumni Achievement, The Cooper Union.
• 2010 Reuben Award from The NCS for Advertising.
• 2011 Gold medal, Editorial, Society of Illustrators
*He teaches narrative art at the School of Visual Arts, Fashion Institute of Technology and considers teaching a selfish act, as his students bring him more than he gives them, but he never mentions this.
See more at: http://stevebrodner.com/about/
Hope to see you there!