Relief block used for printing 
During the Family Day event held on Saturday, November 11 as part of UGA's Spotlight on the Arts festival, the School of Art opened its studios to the public and some included activities such as studio tours and demos. Students and faculty from the Printmaking and Book Arts area created a large-scale print on site utilizing a relief block carved by hand which was then rolled with ink and printed onto fabric using a steamroller as a press.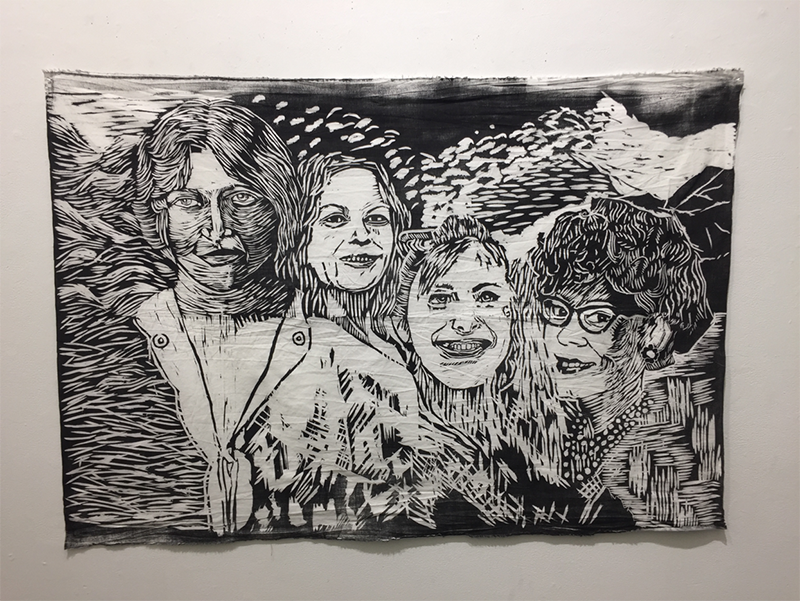 This print on muslin displays important women of UGA's history in a Mount Rushmore style. From left to right the women shown are: 
Mildred Pierce Ledford
Ledford was the first head of the new department of fine and applied arts in UGA College of Agriculture's Home Economics Division in 1927. One of her works will be on display from February 1–April 29, 2018 at the Georgia Museum of Art will in the exhibition Crafting History: Textiles, Metal, and Ceramics at the University of Georgia curated by Annelies Mondi, Dodd Associate Professor Mary Hallam Pearse, and Ashley Callahan.
Suzanne Barbour
Barbour has been the dean of the Graduate School at the University of Georgia since 2015. She completed her doctoral degree in Molecular Biology and Genetics at Johns Hopkins School of Medicine. Barbour was a professor in the VCU School of Medicine's department of biochemistry and molecular biology, where she directed the graduate program for a decade. She served as a program director in the NSF's Division of Molecular and Cellular Biosciences since 2013.
Courtney Kupets Carter
Carter is the head coach of the UGA gymnastics team. She is known for her memberships on 2003 and 2004 US national championship teams and the 2003 World Championships and 2004 Olympics teams, including a bronze medal on the uneven bars. During her time at UGA from 2005–2009, the team won four NCAA national championships in addition to her nine individual event titles and three all-around titles. Kupets Carter is the most decorated collegiate gymnast in NCAA history.
Mary Frances Early
Earning a masters degree in music education, Early was the first African American to graduate from the previously segregated University of Georgia as a graduate student on August 16, 1962.