Location:
Broad St. Studio 1, 225 W. Broad St. Athens GA 30602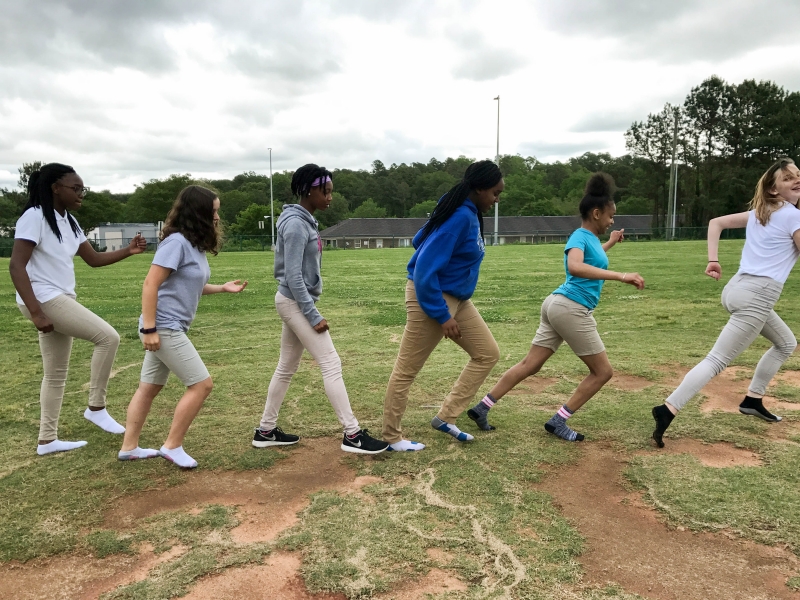 Clarke Middle School Students in Arts + Empowerment Project
Since February, UGA Professors, graduate students and Clarke Middle School faculty have been working with middle school students to explore topics related to empowerment and public art. The Arts + Empowerment project has resulted in a collection of photographs of 7th and 8th grade girls doing 'power poses' that will be exhibited in Athens this summer. The 25 poses executed by these girls represent energy and strength, as well as the unique and collective spirit of the young women in the Athens community. Photographs of the project are displayed in the windows of local downtown businesses including DePalma's, D.P. Dough, CVS, The Globe, Ben & Jerry's, Pope of Prince, Jittery Joe's and Takorea.
Associate Professor of Art Education Lynn Sanders-Bustle coordinated the Arts and Empowerment project and integrated it into her recently-completed maymester course, ARED 5230/7230 Social Action, Empowerment, and Healing through Public Art. Graduate students enrolled in the course from various disciplines collaborated with 7th and 8th grade girls at Clarke Middle School to co-curate the exhibition. Students included Kihyun Nam, Lisa Crone, Sahar Agasafari (Art Education), Hillary Jourdan (Agriculture), Maximos Salzman, (Visual Arts), Sheanette West and Johnny Williams (Social Work). Dodd Assistant Professor Marni Shindleman served as consultant, meeting with the girls to talk about their photographs and led the group in the printing of the large-format photographs. 
An opening reception will take place on June 30 at the Center for Community and Design & Preservation at 225 West Broad Street Studio I from 6–8pm. The exhibition will be on view from June 30–July 14. 

Images: Clarke Middle School Students in Arts + Empowerment Project