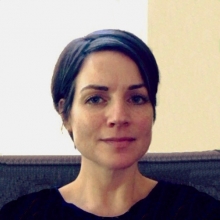 Position:
Associate Professor of Art History
Ph.D. The University of Chicago
Office Hours:
Spring 2017: Mondays, 2pm–4pm
Location:
N314, Lamar Dodd School of Art main bldg
Nell Andrew teaches courses in Modern Art, the historical avant-garde, dance history, and early film. Prof. Andrew also co-directs, with Susan Rosenbaum, the Interdisciplinary Modernism(s) Workshop, a faculty research cluster sponsored by the University of Georgia's Willson Center for Humanities and Arts and OVPR. Currently, she is completing a book on the intersection of avant-garde dance and the development of abstract painting in late-19th and early-20th-century Europe, including studies of dancemakers Loie Fuller, Valentine de Saint-Point, Mary Wigman, Sophie Taeuber, Oskar Schlemmer and Akarova. The multi-disciplinary nature of Professor Andrew's research has led her to question the value of the disciplinary categories of visual culture, visual studies and art history. Interested in expanding the objects and methods of art history, she focuses on the nature of both material and ephemeral art objects and their reception, the concept of abstraction, as well as the gendered bias of art historical formalism and modernist medium-specificity. She has previously worked for the curatorial departments of the National Museum of Women in the Arts, Washington, D.C. and the Art Institute of Chicago, and has contributed criticism to contemporary art exhibitions at the Smart Museum of Art, Chicago and the Weston Art Gallery, Cincinnati. Prof. Andrew's work on avant-garde dance, cinema and abstraction has been published in Art Journal (Summer 2009 and Spring 2014) and in anthologies such as, Film, Art, New Media: Museum Without Walls? ed. Angela Dalle Vacche (Palgrave, 2012) and The Modernist World, eds. Stephen Ross and Allana Lindgren (Routledge, 2015). 
Research Detail:
European Modernism and the Avant-Garde, Abstraction, Modern Dance, Early Cinema