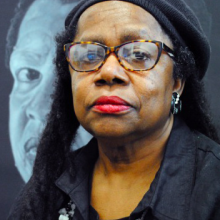 Professor Edison received her MFA from the University of Pennsylvania in 1986 and her BFA from The School of Visual Arts, NYC NY 1976. Edison's visual investigations have centered on portraiture, with an emphasis on the autobiographical. Edison creates her work using color pencil on black paper. Her images are thematically narrative in presentation and psychological in nature. Edison received her first teaching post in 1990, has been a member of the faculty at the Lamar Dodd School of Art since 1992 and was promoted to full Professor in 1999. She served as Associate Director of the School from 1997–1999. In 2002 Professor Edison was elected to a four-year term on the 25-member board of the College Art Association. In 2005 she was elected to the executive, Finance and Budget Committee of the CAA serving as Vice President for Committees, chairing the Nominating Committee. In 2008 her college textbook, Dynamic Color Painting for the Beginner was published by Harry Abrams in New York City and simultaneously with Laurence King Ltd in the United Kingdom. The Spanish language edition was printed in 2009 and the Chinese language 2015. Professor Edison has been represented by The George Adams Gallery in NYC NY since 1995. Her New York exhibitions have also included the Forum Gallery, the DC Moore Gallery and the Tatischef Gallery. Edison's work has been exhibited internationally at the American Embassies of Moscow Russia, N'Djamena, Chad, and her collaborative work with the artist Mel Chin and the GALA Committee was shown at the museum of contemporary Art in LA and the KwangJu Biennale in South Korea. Ms Edison's exhibitions have been reviewed by The New York Times, The New Yorker magazine, the Atlanta Journal Constitution, the Philadelphia Enquirer, Art News and the St. Louis Dispatch. Reproductions of her artwork were featured twice in Artists Magazine. Additionally Professor Edison is published in Who's Who in American Art, Who's Who in America and Who's Who in the world.
Awards & Scholarships
Lecturing/Research Fulbright Scholar Grantee to Bulgaria by The J. William Fulbright Foreign Scholarship Board, 2010-2011
Paul C. and Margaret Beasley Broun Student Support Grant, 2009.
Anonymous Was A Woman Award, 2007.
Senior Faculty Research Grant. University of Georgia, Athens, Georgia, 1999.
Georgia Women in the Arts Recognition Award. Atlanta, Georgia, 1997.
Research Travel Award. Kwang Ju Biennale, Korea, 1997.
Blue Mountain Center, New York, 1996.
Milton Avery Foundation Fellow, 1995.
The Millay Colony for the Arts Inc.  Austerlitz, New York, 1995
University of Georgia Research Quarter.  Athens, Georgia
Southern Arts Federation/NEA Fellowship, 1994
Junior Faculty Research Grant for Visual Arts.  
Georgia Council for the Arts Individual Artist Grant.  Atlanta, 1993.
Appointment Professor of Painting Studies Abroad Program.  Cortona, Italy, 1993.
Skowhegan School of Painting and Sculpture Scholarship.  
Research Detail:
My research concern the negotiation of self as it applies to portraiture which has been my focus. My work is autobiographical with portraits of my family. These works in particular are  thematically narrative in presentation, psychological in nature and directly related to particular musical pieces. All of the portraits are part self portraiture as I translate and superimpose what I and feeling onto the sitter who responds in kind. The indivuals I choose to draw or paint, are those that I have a relationship to and feel a kinship with. Over the years my defininition of family has expanded most notable was an exhibition titled "Black and White, which only included the men in my life.What I am trying to accomplish is no less than a  psychological profile that is accessible on multiple levels, yet relies on the viewer  to engage and stay with the image. As part of my process I choose musical selections to play through out the creation of the work. For some of these portraits I rented r studio space in a church which created a space to explore the  spirituality in the work. One portrait in particular has my hands reaching out in response to the spiritual "There is a balm in Gideon". What drives  this body of work is an attempt to negotiate an  understanding of myself in relationship to family and friends.