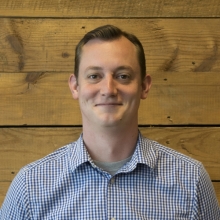 Office Hours:
222 - Thomas St. Art Complex
Derek Faust is an interdisciplinary artist from Atlanta, GA now residing in Athens, GA. Faust explores relationships between objects and experiences. He received his MFA in Sculpture from Georgia State University and BFA from Oregon College of Art and Craft. Faust's work has been exhibited nationally at Low Museum, Mint Gallery, Aqua Art Miami, ATHICA, Museum of Contemporary Art (GA), Solcumb Gallery (TN) and Herberger Institute for Design and Arts (AZ). In 2016, he was awarded a fellowship at Hambidge Art Center and shortlisted for the Working Art Project by the Contemporary Museum of Art of Georgia. Faust has taught sculpture, design and studio classes at Oregon College of Art and Craft, Georgia State University, and University of Georgia. He has extensive experience in woodworking, precast concrete and art studio safety. 
Faust is co-founder and executive director of Doppler Projects, an experimental curatorial project that takes a reactionary approach to space and promotes art and artists that push traditional boundaries. Previously, he directed and curated Doppler PDX Gallery in Portland, Oregon.
Portfolio: