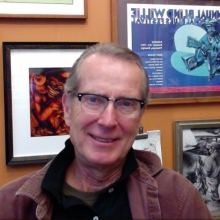 Location:
N224, Lamar Dodd School of Art
I have always been a black and white guy, thinking primarily in terms of values, light and shadow rather than color. So materials like soft charcoal, Conte Crayon, or black Prismacolor pencils were my tools of choice when I was learning to draw. My parents had all the Illustrated Classics, and before I could read I was scribbling imitations of NC Wyeth, Howard Pyle and Rockwell Kent. Later on, looking at Bill Mauldin's Army and anything by Jack Davis introduced me to what it meant to really draw the figure. In 1972 when I started working in Chicago, art directors were casting about for black and white art that would work well in newspapers, notorious for hastily produced half tone separations and poor quality reproduction. Since line art always seemed to print well, and stipple mimicked the look of continuous tone art without the technical problems, it was a perfect solution. For the next twenty five years my work was based almost exclusively on this technique.
My current commissioned pieces are digitally modified ink wash or pencil drawings. Everyone has some strategy for breaking the ice; for me, humor has always the best way to connect with an audience and it would seem to be an underlying constant in my work. Over the years I have been fortunate to work with some very talented and generous art directors and designers. Our efforts have been recognized by the Society of Illustators in NY and LA, NY and LA Art Director's Clubs, Communcation Arts, Print, Graphis, AIGA, Society of Typographic Arts, Society of Publication Designers, The One Show, Clio Awards and European Illustration. 
Research Detail:
Exploring approaches to creating narrative imagery.