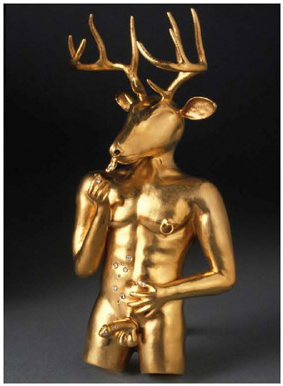 Keith Lewis' jewelry deals with issues of sexual identity, loss, memory and the notion of jewelry as a transportable polemic.
Thursday, November 14, 2013
Lamar Dodd School of Art, Room N100 - 5:45PM
Keith Lewis received his BS in Chemistry from Dickinson College in 1981 and his MFA in Jewelry & Metalsmithing from Kent State University in 1993. He teaches at Central Washington University, where he is currently a CWU Distinguished Professor.
In addition to his work as an artist and teacher, he has also written for a number of publications including Metalsmith, New Art Examiner and Artweek and has served as a member of the Board of Directors of the Society of North American Goldsmiths (SNAG) and of the Metalsmith magazine Editorial Advisory Board.
ADDITIONAL LECTURE
Case Study: The Chatelaine
Wednesday, November 13, 2013
Thomas Street Art Complex, 117 Seminar Room - 12:30PM - 1:30PM