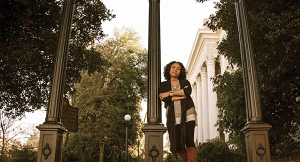 Gloria Wilson, an artist, researcher, and educator, draws on the fields of cognitive psychology, visual culture, and education to examine how Black art teachers navigate academia and the art world.
Spelman College Museum of Fine Art Thursday, April 24, 2014 6:30 p.m.
In honor of the dynamic performances that have come from the Spelman College Department of Drama and Dance's Maya Angelou Black Box Theater, we present BLACK BOX: a site for play, dialogue, and creative risk taking. Creative producers of all backgrounds are invited to share in-progress works on the art and culture of the African Diaspora in front of a live audience for feedback, engagement, and encouragement.