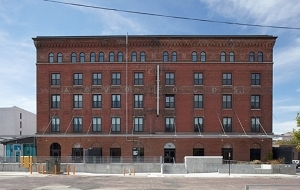 Justin Plakas (MFA '12) and Rachel Debuque (MFA '13) in residence at Bemis Center for Contemporary Arts
The Bemis Center for Contemporary Arts in Omaha, Nebraska, provides studio spaces, living accommodations and a monthly stipend to artists in its Artists-in-Residence program. These artists come from around the world to work within a supportive community of like-minded people in the coverted Bemis Bag Warehouse in Omaha's historic Old Market. The atmosphere and environment offer "an ideal situation for creative growth and experimentation and encourage artists to confront new challenges."
This summer, the Bemis Center program includes two recent Dodd MFA graduates, Justin Plakas and Rachel Debuque. The two are part of an international group of 18 artists who were selected out of a pool of 800, working on individual projects for a funded cycle of three months.
"It has been an amazingly transformative experience," Plakas said.
"I have largely been a video, photo and 2D artist throughout my career and at Lamar Dodd but I came here with the intent to extend my practice into sculpture. I have been doing a series of material investigations all summer - working with plaster, cement, wood and ceramics. I have created a whole new body of 3D work that I am really excited about," he said.
Debuque arrived at the Bemis residency fresh off of a site specific installation she created with UGA alumna Dana Peters in Seattle at SOIL Gallery. At Bemis, Debuque is building a set for a large scale video production which shares some of the thematic language featured in her live performances.
In August, Debuque will be entering her first year in the art department at George Mason University where she will serve as Foundations Coordinator. Plakas will run his own production studio in Washington, D.C.
Congratulations to these two stellar Dodd alumni. Keep up the great work.