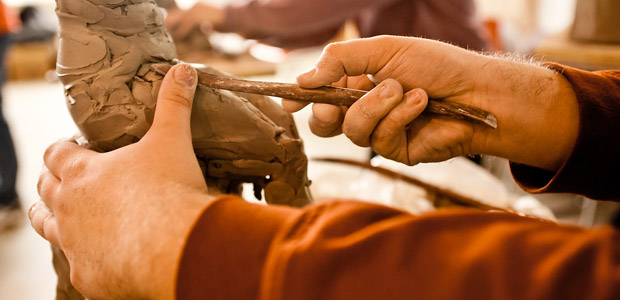 The Foundation is a year long program within the Lamar Dodd School of Art that every student wishing a BFA in Art or an AB in Studio Art must complete before applying to a particular major area.
The first-year Studio Foundation is an intensive, practice-based experience that establishes and develops a common visual vocabulary involving basic perceptual, conceptual and intuitive skill, utilizing models from contemporary and modern art history. The program promotes imaginative critical thinking skills and self-discipline. Students engage in creative problem solving through conventional and unconventional media and techniques associated with a range of studio activity, and advance an understanding of and sensitivity towards the non-verbal language of art and design.
Through a variety of experiences from rigorous classroom critiques and discussion, seminars, visiting artist lectures and exhibitions, first-year students are introduced to new ideas and practices and develop a critical acumen that prepare them for advanced study. Students will also become familiar with the major achievements in the history of art through lectures as well as studio activities.
Successful completion of  the Foundation program does not guarantee acceptance into a major area of study. The methods of eligibility are defined by the individual areas; for specific requirements concerning application to any one of the following areas of study, contact the chair of that area. Areas of study within the Lamar Dodd School of Art include art history, art education, ceramics, digital media, drawing and painting, fabric design, graphic design, interior design, jewelry and metalworking, photography, printmaking, scientific illustration and sculpture.
Within the AB programs at the Lamar Dodd School of Art there are no separate areas of emphasis. In other words, all AB in Art History students are part of a single program; the same is currently true for the AB in Studio Art. The BFA in Art Education is a single program of study and has no separate areas of emphasis.