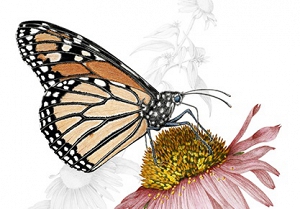 "OC" Carlisle, Scientific Illustration (BFA candidate 2014), Lamar Dodd School of Art, University of Georgia (UGA), will present a solo art exhibition of illustrations, fine art and photography.
The exhibition will be at the School of Public and International Affairs (SPIA), Candler Hall, UGA, with a reception hosted by Dean Stephanie Lindquist, Friday afternoon, October 10, 2014, from 3 - 5 PM. The exhibition will be on displaythrough the end of Spring semester 2015. 
Ms Carlisle researches and creates botanical, entomological and medical studies and renderings for a variety of assignments in her scientific illustration studies.  Her illustration skills include graphite, carbon pencil and dust, colored pencil, watercolor, ink and scratchboard along with computer illustration and graphics techniques.
Prior to and in addition to her current studies, Carlisle has shown her illustrations, fine art and photography in invitational, juried and solo exhibitions in the Washington DC metro area, Albuquerque, New Mexico and Northeast Georgia, collecting a number of awards for her works.
Her most treasured award, the Joshua Laerme Award for Excellence in Scientific Illustration, was given to her by Professor Gene Wright, Chair, Scientific Illustration, UGA. The animal/botanical project was created in graphite, watercolor wash, colored pencil, a rendering of a Monarch butterfly, Danaus plexippus, nectaring a Purple cone flower, Echinacea purpurea. Dr Sonia Altizer, Director - Infectious Disease Ecology, Altizer Lab, UGA, and her staff guided "OC" in the anatomy and feeding position of the Monarch.
Carlisle's recent juried exhibitions include the Guild of Natural Science Illustrators (2010, 2012); Lamar Dodd School of Art Scientific Illustration (2010-2014) and Georgia Regents University (2010 - 2014); several exhibitions at Athens, Academy and the Lyndon House Arts Center, Athens, GA.
Her Air Force related photography, graphic design, and illustrations are included in displays and permanent collections at HQ USAF, Pentagon. Carlisle's photography has been published in the US Department of Agriculture yearbooks, special publications and is also in the archival collections.  Additionally, "OC" has had her works published in regional and national publications and some of her works are for sale at the Chapelle Gallery, Watkinsville, GA and Always Always Flowers, Athens, GA.