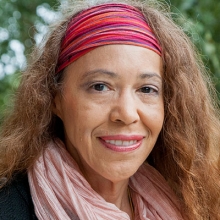 Location:
S385C, Lamar Dodd School of Art
Stefanie Jackson is an Associate Professor of Art at the Lamar Dodd School of Art, where she teaches undergraduate and graduate drawing and painting. Originally from Detroit, Jackson studied art in New York City and Paris. She received a BFA from Parsons School of Design in 1979 and an MFA from Cornell University in 1988. In 1994 she received her first major grant, from the Jackson Pollock and Lee Krasner foundation. Jackson has lived and worked in Athens, Georgia since the 1990s, maintaining a studio practice at her home.
Jackson is the recipient of several prestigious awards, most recently the 2017 Anonymous Was A Women Award. She has received several individual grants from Georgia Council for the Arts and a Special Projects Grant from the National Endowment of the Arts. In addition, Jackson was a recipient of the Adolph and Esther Gottlieb Foundation Award in 2002 in recognition of twenty years of sustained art making. Recent exhibitions include the solo exhibition La Sombra y el Espiritu IV: Figurative Visions and Collective Histories at the Stone Center's Robert and Sallie Brown Museum at the University of North Carolina in 2016 and the group exhibition Shifting African American Women Artists and the Power of their Gaze at the David C. Driskell Center Gallery at the University of Maryland in 2017. Jackson's paintings are in the collection of the Georgia Museum of Art, Birmingham Museum of Art, Larry and Brenda Thompson Collection of African America Art, the Kerry and C. Betty Davis Collection, and the Clarke Atlanta University Art Galleries. The Detroit Institute of Arts recently acquired a painting by Jackson that is on view in the galleries devoted to African-American art.