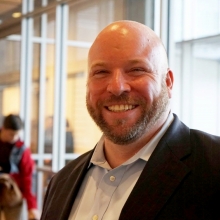 Position:
Director
Professor of Art & Design
Area Chair for AB Interdisciplinary Art & Design
Location:
C301C, Lamar Dodd School of Art
Chris Garvin received his Masters of Fine Arts from The Ohio State University where he studied painting, while his research was further focused at the Advanced Center for Computing and Design. He completed additional study at the Harvard Business School's Creative Leaders Program co-sponsored by AIGA, the professional organization for design.
Garvin arrived at the University of Georgia in 2014 after serving as Dean of the College of Media and Communication at the University of the Arts in Philadelphia, Pennsylvania. He has previously had an active professional career as a user experience designer and creative director with his firm, Educated Guess Work. A selected list of former clients includes: Vogue, Talk Magazine, Infiniti, The Museum of Modern Art, AT&T, Showtime, Klip, Motorola, National Geographic, Syracuse University and the American Lung Association.
Professor Garvin has spoken internationally on art, design, technology and education. In 2014, his works were published as a contributing author in 72 Assignments: The Foundation Course in Art and Design Today.