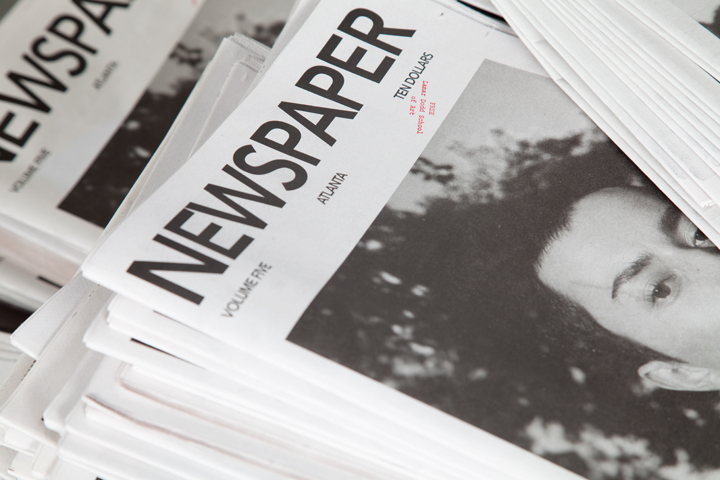 NEWSPAPER (1969–2017), an exhibition curated by Dodd Photography Fellow Mo Costello and New York photographer and historian Marcelo Gabriel Yáñez, opens on March 23, 2017 in the C-U-B-E Gallery on the second floor north hallway and in the Project Space on the second floor south hallway of the Lamar Dodd School of Art. Work in C-U-B-E will remain on display through the 2nd of April, while the original Newspaper will be on display in the Project Space through March 26. A selection of texts will be on display as well in the Dodd's Art Library through the duration of the exhibition . 
NEWSPAPER honors the work of Steve Lawrence's Newspaper, a small press publication conceived in 1969 that featured the works of various figures from the downtown New York scene. This publication ran for nine issues until 1971. During its short life, it was part of the Information Show at the Museum of Modern Art, widely acknowledged as the first large survey on conceptual art. Over the years and following the AIDS crisis, Newspaper was lost and Steve Lawrence's work faded into obscurity.
The exhibition features the work of Lawrence's original publication alongside Yáñez's contemporary iteration. The recently published regional edition of Newspaper was released in Atlanta at Murmur on March 10, 2017 and is comprised of the work of southern queer and transgender artists. Copies will be distributed throughout the duration of the exhibition. In addition, the exhibition is comprised of a range of contextual objects and textual artifacts from the original publication as well as a selection of work from contributing queer artists.
NEWSPAPER is available for purchase at Printed Matter, Inc; Art Book at MoMA PS1; Trollhole; BGSQD at The Center; Mast Books in New York City; Art Metropole in Toronto; and Skylight Books in Los Angeles.