Location:
Lamar Dodd School of Art, S151
University or Organization: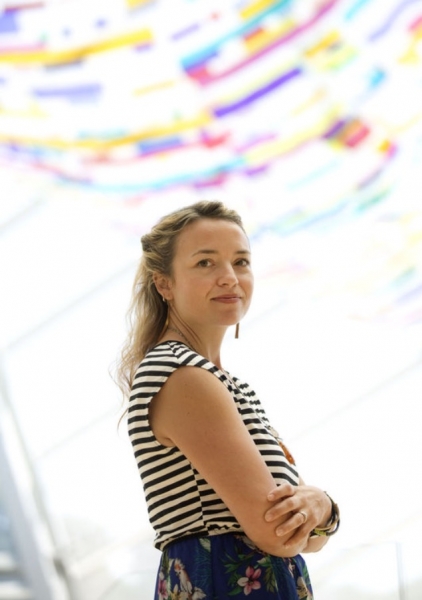 Rachel Hayes was born and raised near Kansas City, MO. Her installation based works have been exhibited extensively at venues including Sculpture Center, Queens, NY; The Nerman Museum, Overland Park, KS and The Taubman Museum of Art, Roanoke, VA. Hayes has been commissioned to create public projects in Arlington, VA; Columbus, GA; Kansas City, MO; Lower Manhattan, NY and Brooklyn, NY. She has attended numerous artist residencies including the Marie Walsh Sharpe Space Program, Brooklyn, NY; the Roswell Artist-in-Residence Program, Roswell, NM; the Sculpture Space Residency, Utica, NY and the Art Omi International Artists' Residency, Ghent, NY. Hayes is the recipient of the Augustus Saint-Gaudens Memorial Fellowship in Sculpture; a Virginia Museum of Fine Arts Fellowship in Sculpture; a Virginia Commission for the Arts Fellowship in Sculpture and a Charlotte Street Fund Award. Rachel has worked with a diverse range of students as a visiting artist and lecturer in Fiber, Sculpture, Painting, Ceramics and Photography departments at numerous institutions including Tyler School of Art, Louisiana State University, The University of Cincinnati, Columbus State University, University of Iowa, University of Vermont, University of Arkansas and the Kansas City Art Institute.
Hayes received a BFA from the Kansas City Art Institute in Fiber and an MFA from Virginia Commonwealth University in Painting. She has based her studio from Brooklyn, NY; Richmond, VA; Kansas City, MO; Iowa City, IA; Roswell, NM. She currently lives in Tulsa, OK.
Artist Statement: 
I developed a love of materials, textures and processes while studying textiles and fiber art as an undergraduate student. Even as a child growing up I remember my family having amazing collections of textiles around the house, and through the years I have also amassed a vast collection of various textiles that I have studied, surrounded myself with and have been influenced by. My husband is a painter whom I have been working close by for nearly 20 years, and subsequently, I have also been influenced by the concepts and formal techniques of abstract painting. As my work has gradually grown larger in scale and more site specific, I have become very interested in the functionality of architecture and spacial design as well. In my philosophical blender, I combine the processes I learn from fiber arts, the physicality and environmental sensitivities of sculpture and other forms of construction, and the mark-making and intuitive romance of painting to create my hybrid.
When I first began my career, I wanted to challenge the dialog that often surrounded my work in relation to craft and specifically the processes of sewing. Out of frustration, I created work as large and as bold as I possibly could--as if that would deem it more masculine, therefore more powerful--all while using delicate materials and building with tiny stitches. Though I continue to work on a large and sometimes even monumental scale, the work has revealed so much more to me over time. I see landscape drawings, utilitarian textiles fading in the sun, stained glass chapels, Mid Century stripe paintings, monolithic sculptures, theater backdrops, sacred cloth, provisional shelter, modern Americana quilts, and much more. I use materials such as silk, polyester, nylon and tulle which are associated with various types of clothing construction and fashion, and techniques such as weaving, flag stitching and log-cabin quilting to create beautiful and rigorously physical sculptures, installations and experiences. I lead viewer's eyes with scale and the ordered construction of bright color, yet hope they will also experience more subtle and ephemeral nuances such as the changing light and shifting shadows or the sound of fabric rustling in the breeze.
My work is sensitive to my location. Different stages of my life and how I see myself in the world affect my artistic inquiry. Whether I am working on a scale model, bringing an idea to life in my studio, or on location with my family arranging fabric constructions in the desert, I feel that I am changing the world, by adding and responding to it.
Sponsor:
Visiting Artist & Scholar Series