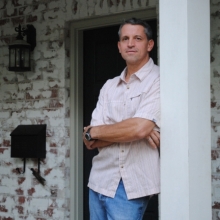 Position:
Professor of Art
Area Chair for Scientific illustration
Location:
N209, Lamar Dodd School of Art
Gene Wright is in his 24th year as Professor of Art at the University of Georgia Lamar Dodd School of Art where he serves as Area Chair of the BFA degree program in Scientific Illustration. Gene earned his BFA in Scientific Illustration from the University of Georgia in 1986, and his Master's Degree in Medical Illustration from the Medical College of Georgia in 1990. Outside of teaching, he works as a freelance medical and science illustrator creating a wide range of illustrations for journal, textbook, advertising and multi media web based applications. Gene has received Awards of Excellence in Advertising, marketing and Illustrated Medical Textbook Awards. Ranking travel high on his list of accomplishments, he has enjoyed teaching in Italy, Costa Rica and India. He also enjoys painting in watercolor, carving in wood and stone, and spending time with his wife Allison and their twin sons, Lucas and Scholl.