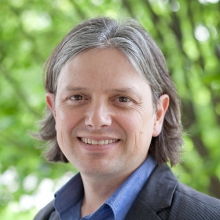 Position:
Instructor
Research Professional IV (ECOGIG, Department of Marine Sciences)
Digital Arts Fellow (Willson Center for Arts and Humanities)
Éric Marty is composer and media artist who works in sound, interactive design and hybrid forms. He also conducts research in data visualization with ECOGIG (Ecosystem Impacts of Oil and Gas Inputs to the Gulf) in UGA's Department of Marine Sciences. His artistic honors include the Canada Council for the Arts' Stauffer Prize, the ALEA III International Composition Prize, composition prizes from the Canadian Broadcasting Corporation, ASCAP and SOCAN, and fellowships at the Akademie Schloss Solitude in Stuttgart and the Fondation Camargo near Marseilles. His installations and site-specific performances, supported by the Canada Council, have been exhibited at the ISCM World Music Days, the Ojai Music Festival, the International Digital Media and Arts Association, the Atlanta Contemporary Art Center, Flux Night Atlanta and the Akademie Schloss Solitude. Marty studied at the Center for New Music and Audio Technologies at the University of California at Berkeley, and holds a PhD in Composition and Computer Music. As Willson Center Digital Arts Fellow, Marty helps build interdisciplinary collaborations among the arts and sciences at UGA.