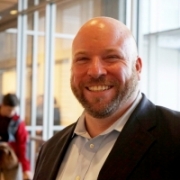 The students and faculty at the Lamar Dodd School of Art are engaged citizens possessing expertise and the highest levels of integrity. Every day, they dedicate themselves to discovery as historians, educators, designers, and artists. And, everyday it is my honor to lead them into a future filled with challenges and promise, encouraging risk-taking in the name of achieving some measure of greatness.
We are an artistic and intellectual community, but also an entrepreneurial one. We understand that significant innovation requires both obstacles and opportunity. Obstacles serve as catalysts for important questions and impactful solutions. Opportunities lead to ideas that take root and make a difference, now and for generations to come. 
In a climate that seems evermore transactional, it is vital that artists and scholars take a deliberate approach — one that is measured not merely in dollars and cents but in lives bettered and cultures renewed.
Chris Garvin
Director, Lamar Dodd School of Art