As Georgia's "Classic City," Athens is a prospering community, one that reflects the charm of the Old South while still developing in culture and industry.
Located approximately 70 miles east northeast of Atlanta, Georgia, Athens is at the heart of a three-county metropolitan area of 126,000 people. Athens is a college town in every sense of the word. The main campus of the University of Georgia, located in downtown Athens, covers 605 acres and includes 313 buildings. The campus adjoins the historic commercial section of Athens on its northern boundary. Athens features many restaurants, interesting shops, nightclubs and service businesses. Athens is well known for it's progressive music scene and the home of R.E.M., the B52's and Widespread Panic, and is also the home of the Georgia Museum of Art. 
---
Climate and Local Media
Athens' elevation is 600 to 800 feet above mean sea level, and because of its geographic location, the city is sheltered from much of the extreme weather of the winter season. Mean temperature for January, the coldest month, is 43 degrees F., and for July, the warmest month, 79 degrees F. Average minimum and maximum temperatures for January are 33 and 53 degrees F., and for July, 68 and 89 degrees F. Average rainfall is 50.42 inches.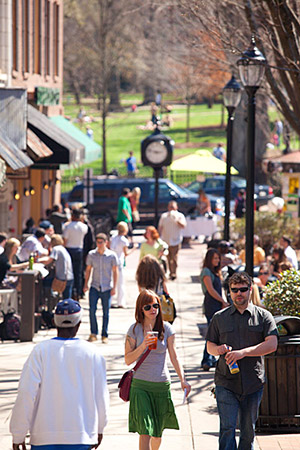 Athens is served by a daily newspaper, The Athens Banner Herald and an independent student newspaper, The Red and Black. Athens also has the weekly newspaper Flagpole, and the Atlanta newspapers, as well as six local radio stations and the University's radio stations, WUOG-FM and WUGA- FM.
Two award-winning hospitals offer comprehensive health care to Athens.
---
Local Arts and Related Venues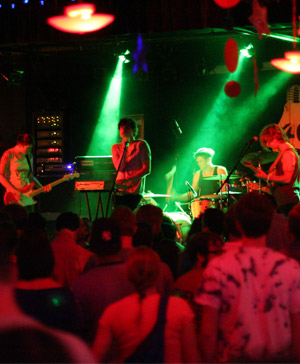 Numerous events, performances, and activities are held throughout the year at the University. For general information about campus events, call the University Communications Office at (706) 542-8090. For more information on concerts sponsored by the School of Music, call (706) 542-3737; on performances presented by the University Theater, call (706) 542-2838; on current exhibits at the Georgia Museum of Art, call (706) 542-GMOA.
RELATED LINKS
UGA Visitors Center
Online Athens, Banner Herald newspaper
Athens Convention and Visitors Bureau
Athens weather