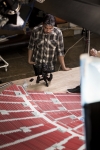 Paul Pfeiffer is an artist of international stature, currently serving as the Lamar Dodd Professorial Chair. A pioneer and exemplary practitioner working in the fields of installation, photography, and video, he is best known for digitally manipulated images of athletes and celebrities, which he uses as an occasion to plumb the depths of contemporary culture, assessing its racial, religious, and technological dimensions. At the same time, Pfeiffer's acclaimed objects and images function diachronically, establishing profound genealogies that connect contemporary culture and its many particularities – professional sports, televised game shows, Michael Jackson, etc. – to the long, seemingly remote histories of art, media, religion, politics, and nationhood. For more information about Pfeiffer's work recent exhibition in the Dodd Galleries, Desiderata, click here.
---
About the Lamar Dodd Professorial Chair
Founded in 1970, the Dodd Chair is a short-term appointment of high distinction intended to honor artists of international standing who have achieved an extraordinary record of exhibition. Artists selected for this position teach and work at the Dodd and hold the rank of full professor, following in the footsteps of Elaine de Kooning, Mel Chin, Willie Cole, David Humphrey, Lola Brooks and Paul Pfeiffer among others. The Lamar Dodd Professorial Chair was established to honor the Dodd's first Chair, Lamar Dodd, for whom the art school is named. It is an integral part of the Dodd's commitment to excellence across disciplinary boundaries and reflects the school's belief that arts research is an essential component of the academic mission of the University of Georgia.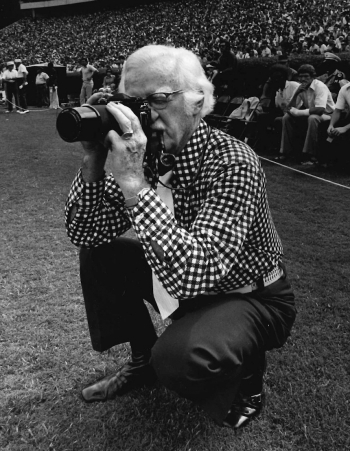 Professor Lamar Dodd shooting images at Sanford Stadium
Read about our past Dodd Chairs here.