Michael Oliveri, Associate Professor of Art at the Lamar Dodd School of Art, recently completed a cross-country road trip and art project entitled UFO Roadshow. From June 12 to June 25, 2017, the artist travelled from Atlanta, Georgia to Joshua Tree, California with model UFOs that interrogate the fact and fiction of the disputed crafts on a tour presented by Dashboard. Dashboard, an Atlanta-based experimental curatorial agency, offered the large-scale public art disruption UFO Roadshow as part of its commitment to encourage risk-taking and immersive practice. Oliveri made small wooden UFO sculptures for distribution on the journey. The crew visited several extra-terrestrial roadside attractions along the way, dropping small UFOs at each location as they departed. The UFO sculputre for Roswell, New Mexico is now the main prop in the town's UFO parade and is housed permanently at the International UFO Museum and Research Center located there.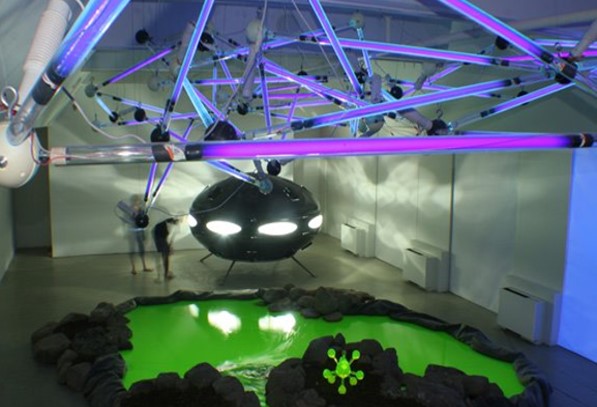 Above image: UFO Roadshow postcard; Image: Michael Oliveri, Ultraviolet Acquiescence & Deep Space Drip Culture [installation consisting of a 30-foot fluorescent green stream into 20-foot diameter pool with a molecular network of black lights and a UFO (Ulterior Farming Operation) that grows tomatoes]
Ultimately, UFO was presented at High Desert Test Sites and Integratron in Joshua Tree, California. High Desert Test Sites is a non-profit organization co-founded by Andrea Zittel that supports artists whose practices explore the intersection between contemporary art and life at large. It is known for hosting events in far-flung corners of the American southwest. The Integratron is a historical structure in the Mojave Desert, 20 miles north of Joshua Tree National Park. Its creator, George Van Tassel (1910-1978), thought the site was a powerful geomagnetic vortex and the unique wooden dome was designed to be an electrostatic generator for the purpose of rejuvenation and time travel. In the final act of the project, Oliveri installed a large-scale UFO sculpture at the High Desert Test Sites at Sunfair Dry Lake Bed, where it is currently on view.
Oliveri founded the ArtX program, which considers historical developments, critical ideas, and current practices related to time-based art, technology, and science, at the School of Art, and continues to teach undergraduate- and graduate-level courses. In his own practice, he uses technology usually applied in hard sciences and contemporary art practices to arrive at a poetic synthesis between art and science. His work is conceptually based, utilizing a wide range of media from large photographic prints to multi-media installations and performances. Oliveri received a MFA in New Genres from UCLA and a BFA in Sculpture from the San Francisco Art Institute. Learn more about his work on his website.
Watch videos of the UFO Roadshow project:
Roswell Daily Record's video clip on Youtube about the UFO Roadshow's visit to Roswell, New Mexico
UFO Roadshow video clip on Youtube of Oliveri's UFO in the desert