Dodd graduate students Ally Christmas and Abigail Kosberg won two of four awards at the recent 4 minutes, 33 seconds: Spotlight on Scholarship event held in conjunction with the campus Spotlight on the Arts festival on November 7, 2017. This fourth-annual competition featured both poster sessions and presentations about research in the arts conducted by University of Georgia graduate students and awarded cash prizes for research to winners.
In the competition students had 4 minutes, 33 seconds to describe their research. The event is inspired by John Cage's landmark 1952 composition 4'33," which calls for a pianist to sit silently at a piano for exactly 4 minutes and 33 seconds. Cage's 4'33" challenged audiences to reconsider the function of art and the borders between traditional art disciplines and between artistic practice and philosophy.
Ally Christmas, a third-year MFA candidate in Photo won the 4'33" Oral Presentation with her presentation, "The Extended Self(ie): How To Coexist With Yourself," in which she discussed her research on the technological embodiment of the self while presenting clips from her thesis works.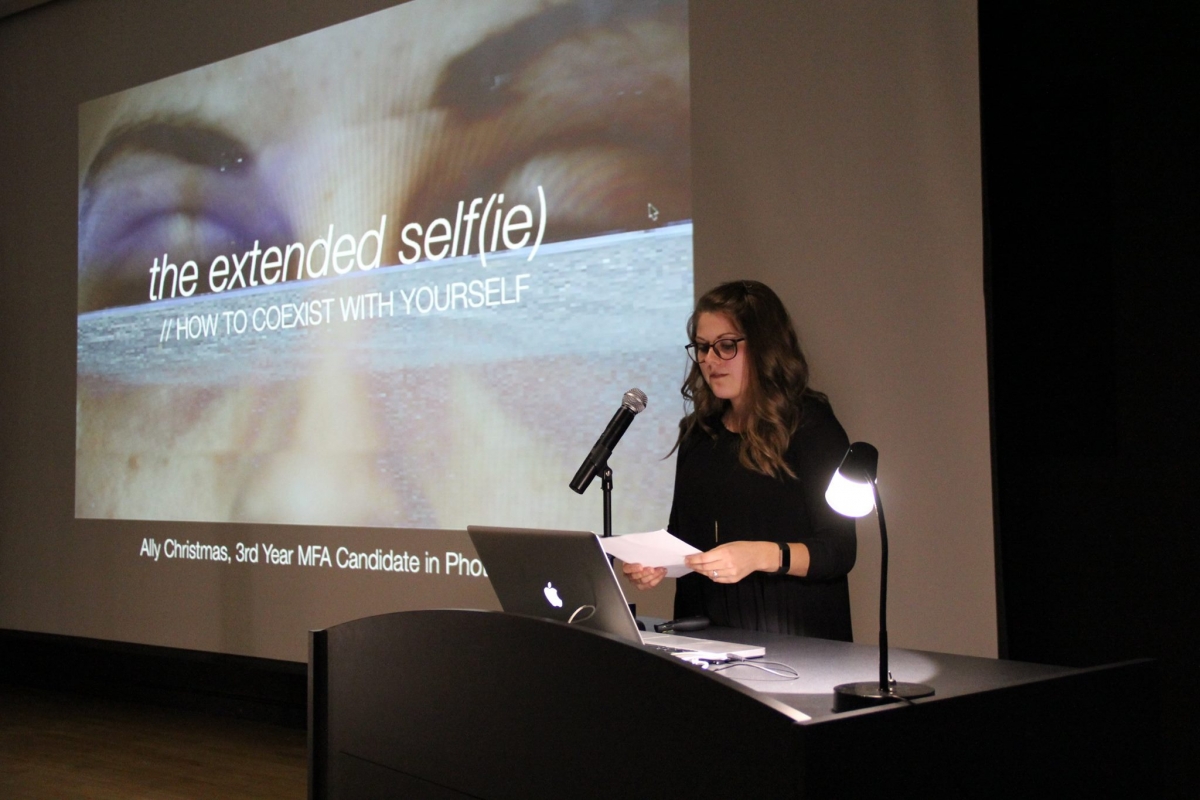 IMAGE: MFA Candidate Ally Christmas presenting her research​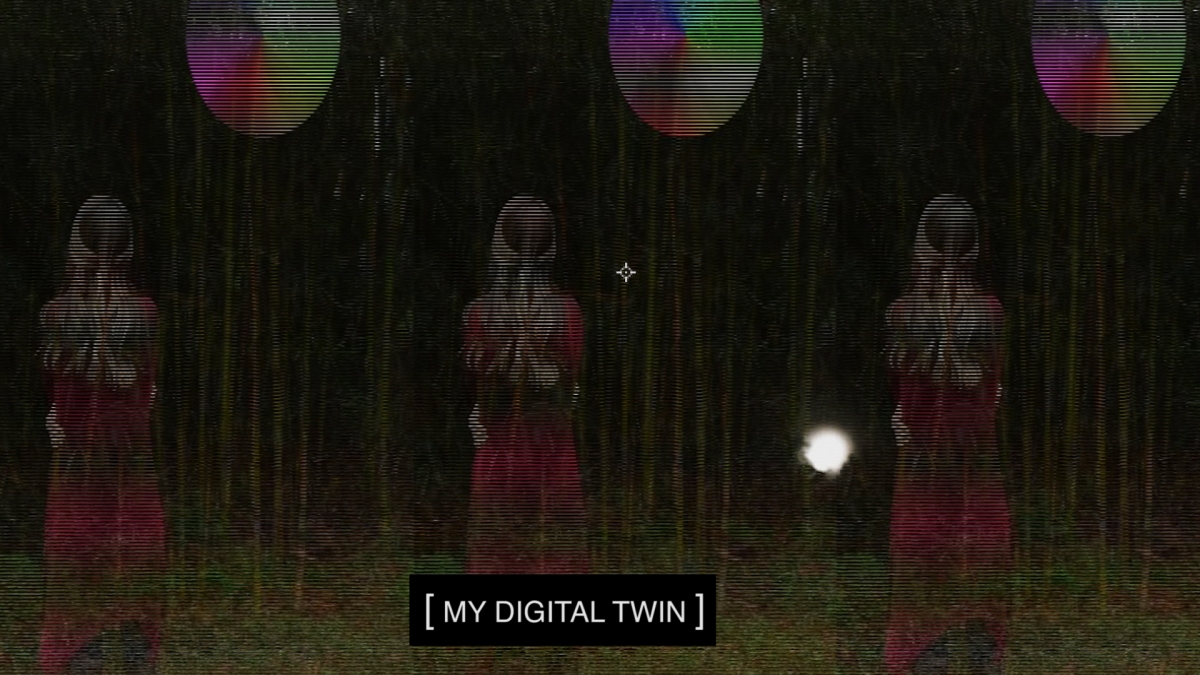 IMAGE: Digital Twin by MFA Candidate Ally Christmas
Abigail Kosberg, an MA student in Art History, won the award for Most Creative Presentation in the Poster Competition for her presentation, "Cut From An Ethnographic Museum: Collaging Other In Weimar Mass Media."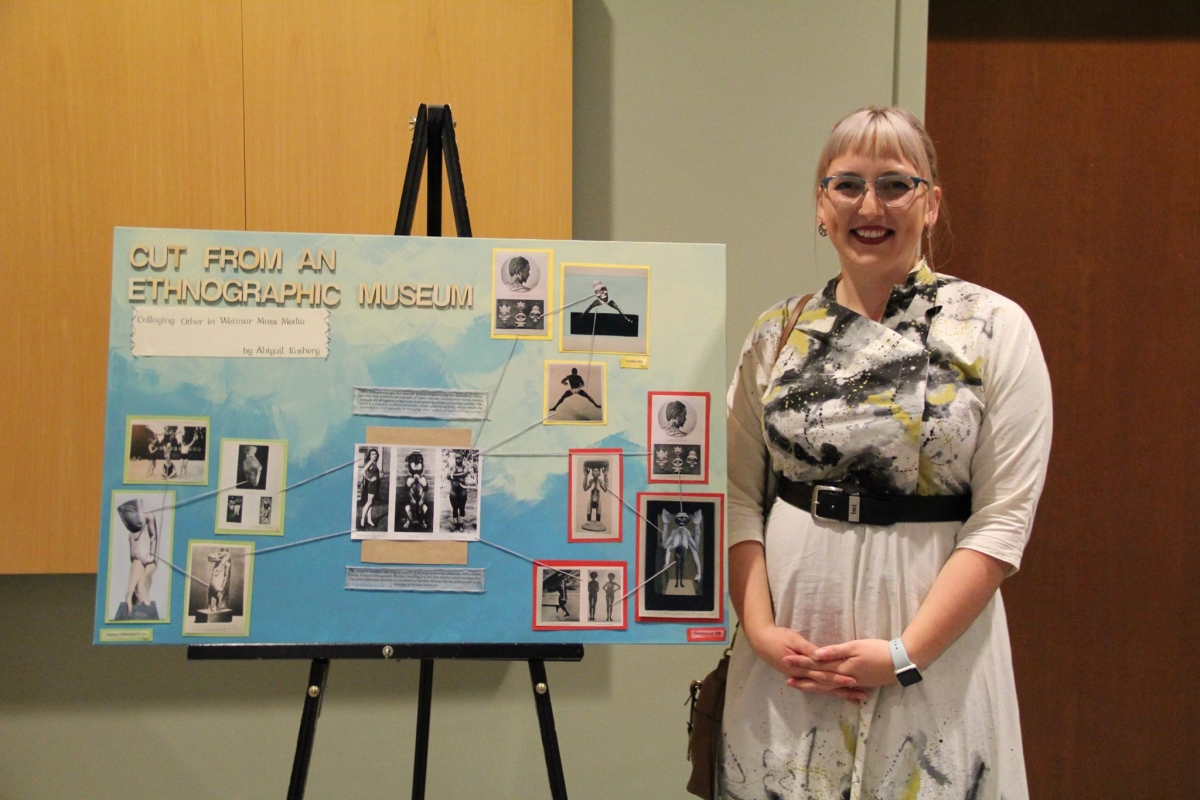 IMAGE: MA Candidate Abigail Kosberg with her poster​
The other winners for the Poster Competition were Madison Hogan, an undergraduate major in the Department of English, for Clearest Communication; and Marlon Burnley, an MFA candidate in Acting in the Department of Theatre and Film, for Most Innovative Research.  Last year, Meg Hankel, an MA candidate in Art History, won the 4'33" competition with her presentation "Redefining New Objectivity: Albert Renger-Patzsch and Die Welt ist schön (The World is Beautiful)." Read more here.