A big congratulations from the School of Art to recent alumnus Nic Walter, who joins the staff of MoMA PS1 in New York City this fall. In this position, Walter brings together his interest in art, research, and the social sciences, much as he did as an undergraduate student at The University of Georgia. Walter pursued interdisciplinary studies focsed on visual perception, graduating with a BA degree in Cognitive Sciences, a BS degree in Psychology, and a BA degree in Art History in December of 2015. Initially determined to pursue research, he was stymied when a job offer in that field in Atlanta was rescinded just as he graduated. Walter was unsure how to move forward and began asking people for advice. He spoke about his situation with artist and strategic designer Jennifer Brook, a connection from his trip to New York City during the School of Art's NYC Maymester program. Brook ultimately offered Walter not only advice but part-time freelance work on a user experience research project, if he were to move to New York. This offer helped Walter decide to make the big move to a city that he had enjoyed exploring as part of the School of Art's Maymester program but never lived in. At first, Nic cobbled together different freelance and contract projects, often arts-related (for example, working for the Armory Art Fair).
Above image: Nic Walter at the Jim Campbell exhibition at the Museum of Moving Image during the NYC Maymester Program in May 2014. Top image: Installation shot of Rockaway!, a site-specific outdoor installation by artist Katharina Grosse, at Fort Tilden, New York. Organized by MoMA PS1.
Such opportunities eventually led him to a temporary contract as the Curatorial Research and Production Assistant on MoMA PS1's Rockaway! project this past summer. Rockaway! was an installation that MoMA PS1 commissioned German painter Katharina Grosse to create at Fort Tilden, a national park in Brooklyn with a popular beach. The artist wanted to spray brightly colored paint directly onto some derelict structures set for demolition in the fall. Walter spent time researching the toxicity of various kinds of paints to determine which would work best for this environment, a national park open to the public, as well as doing production work to realize the installation. He worked with staff from MoMA PS1's Live Programming team on Rockaway!, and one of them encouraged him to apply for a full-time position in the Visitor Engagement department that would become available later in the fall.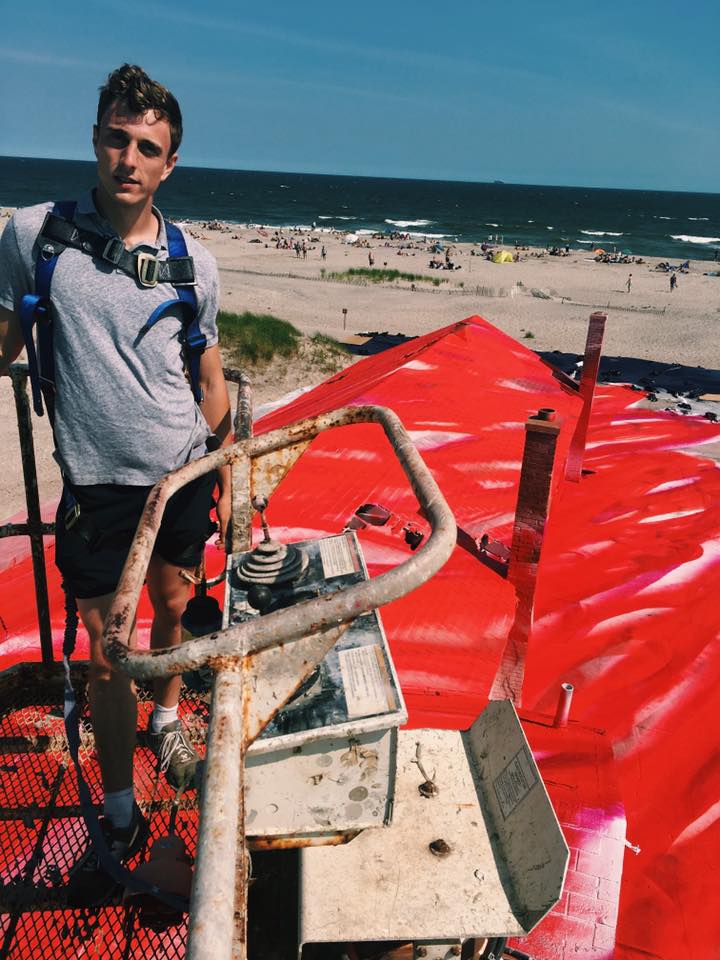 Image: Nic Walter on site during production of Rockaway!
Walter was excited to apply for the role when it did become available. He was offered and accepted the role, and began working at MoMA PS1 in early November. The Visitor Engagement department handles a wide number of aspects of the visitor's experience to the museum—everything from ticketing to visitor tours to event production. Walter is exposed to the workings of the whole department in this position. A day might include tracking how visitors move through the space or leading pre-arranged tours through the galleries in addition to behind-the-scenes administrative work and research. Walter intends to bring his knowledge of data and analysis—as well as art history—to the task of improving visitors' experience. In this way, the coursework bridging art and science that he took while at The University of Georgia is now helping him in his work at the museum.