The BFA program at The University of Georgia in Jewelry and Metalwork is an inclusive program of study which provides students the opportunity to explore and develop technical competencies and conceptual directions within the arena of contemporary jewelry and metalwork.  
Image: Kathleen Janvier BFA 2008
Students in the program will develop an understanding in various techniques such as metal fabrication, lost wax casting, raising, forging, stone setting, color on metal applications and numerous forming and surface embellishment processes. In addition, students have access to equipment such as 3D printers, laser cutters and CNC milling located within the Lamar Dodd School of Art and the UGA MakerSpace housed in the  Science Library which allows students to bend and blend traditional skills with new technologies as they execute and explore their creative works.
Through an intensive course of study, students gain an appreciation for the history and global trajectory within the field of jewelry and metalwork while also considering the larger arts/crafts/design movements. With the completion of the BFA Exit Project students present a professional portfolio that can be used towards the application of graduate school or in the pursuit of a career as a creative professional in the field and beyond. 
Our program includes dynamic and internationally recognized faculty which includes Area Chair/Associate Professor Mary Hallam Pearse, Assistant Professor Demitra Thomloudis and celebrated Emeritus faculty Gary Noffke and Robert Jackson. The program of study is further enriched by the Ann Orr Memorial Visiting Artist Program, international and national study abroad programs, field trips to galleries and museums and our dynamic student run organization Phi Beata Heata.
---
Careers in the Creative Arts
Upon graduating from the Jewelry and Metalwork area students will be prepared for work in a variety of creative capacities. For example: 
Jewelry Industry: Retail Jewelry Sales Professional, Watchmaker, Diamond and Gem Stone Analyses
Designer: Jewelry, Eye Ware, Handbags, Furniture, Shoes
Recent graduates of our program have taken positions with Todd Reed Jewelry, Bethenny Frankel, Domino magazine, Laurel Hill Jewelry, Urban Outfitters Inc. and the Center for Craft Creativity and Design.
---
Facilities
The Jewelry and Metalwork main studios are well equipped, spacious and illuminated with natural light. The studios occupy approximately 3000 square feet with a large semi-private graduate studio and a separate undergraduate studio dedicated to graduating seniors in the BFA program.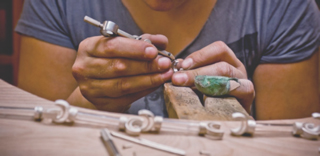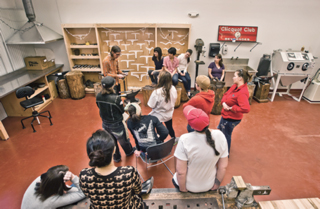 With 24-hour studio access, the main studio is generously equipped with: small hand tools, an extensive selection of metalsmithing hammers, acetylene and natural gas torches for soldering and welding, rolling mills, a variety of shears, 20-Ton hydraulic press, sand blaster, grinders, belt sanders, flexible shafts, Dumoure drill presses, polishing wheels, wire drawing bench, PUK welder, mini lathe, band saw, ultra-sonic cleaner and drum finishers. 
In addition to our main studio, our facilities offer separate dedicated studios configured for specific processes such as: 
Centrifugal casting which includes vulcanizing, wax injection units and particulate ventilation for the investing process.
Metalsmithing studio is furnished with vast variety of stakes, stumps, anvils, vices and an extensive array of hammers for silversmithing and blacksmithing. Located in this area is a ventilated pitch station and a large scale ventilation hood for annealing large work with our natural gas annealing torch. 
Enameling, small and large scale powder coating setup, etching booth and patina station. Equipment in this studio includes Vecella and Pargon enameling kilns, Blue M ESP400A Industrial oven for powder coating and Ferric Chloride etching baths.
Our photography studio is equipped with professional studio lightening, DSLR camera and everything students need to prepare professional quality images of their work.
 In addition to our on-campus facilities, the School also has a year-round Studies Abroad Program in Cortona, Italy, that has served over 4,000 students from 400 American institutions since its inception in 1969. 
---
Program Highlights
ANN ORR MEMORIAL Visiting Artist Program 25 YEARS: 
The Ann Orr Morris Memorial Fund was established in 1988 by Martha Odum and the friends and family of Ann Orr. Since then, the Ann Orr Fund has enriched the jewelry and metals program of the Lamar Dodd School of Art at the University of Georgia with resources for annual lectures and workshops by nationally recognized leaders in the field of jewelry and metals. Visiting Artists Include:
| | |
| --- | --- |
| Sondra Sherman  | Curtis Lafollette |
| Jonathan Wahl  | Robert Ebendorf |
| Julie Woodman  | Mary Lee Hu |
| Deb Stoner  | Lane Coulter |
| Jim Cotter | Mary Douglas |
| Jamie Bennett | Mary Ann Scheer |
| Nancy Worden | Jan Brooks |
| Linda Darty | Jim Wallace |
| Phil Fike |   |
Lamar Dodd Visiting Artist Lecture Series:
Gary Griffin, Myra Mimlitsch-Gray, Anya Kivarkis, Iris Eichenberg, Lola Brooks, Glenn Adamson, Lauren Fensterstock, Janet Koplos, Jeaninne Fallino
Former Dodd Chairs: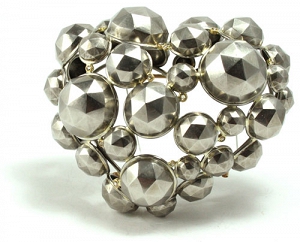 Lola Brooks, 2012
Student Organization:
Started in 1976 our student lead jewelry and metalwork organization is designed to promote and expand the field of jewelry and metals on our UGA campus and within the community at large. Phi Beata Heata organizes contributes to special events on campus and holds a jewelry sale at the end of the fall semester to raise money for lectures, visiting artists, travel to national conferences and gallery/museum visits.
Follow Phi Beata Heata on Facebook
Jewelry & Metalwork Visiting Artists:
Melanie Blienker, Yevgeniya Kaganovich, Ashley Buchanan, Zach Letchenberg, Gary Noffke, Gemma Draper, Logan Woodle, Anne and Paul Lings, Jessica Todd, Andrew Crawford, Barbara Mann
Conferences:
SNAG Chicago, SNAG Memphis, SNAG Seattle, SNAG Boston, SNAG Asheville, YUMA symposium, Memphis Metals Museum Repair Days, Mint Museum, East Carolina University Metals Symposium, SOFA Chicago
Field Trips:
American Craft Council Atlanta, Penland School of Crafts, Joanna Gollberg, Hoss Haley, Meghan Patrice Riley, Atlanta Contemporary Jewelry Show, Museum of Art and Design, St. Udio, Donald Cope Studio
International Travel:
Munich Jewelry week, SIERRAD International Jewellery Fair 
---
Academics
View a sample four-year plan (pdf)
For current requirements, refer to the UGA Bulletin.
---
   
Follow the Jewelry & Metals Area on Facebook and Instagram!