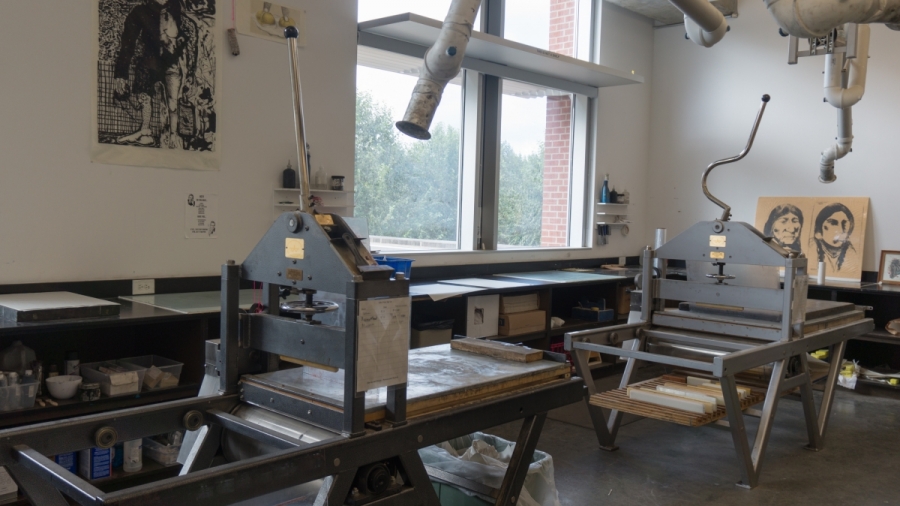 ---
Photography
Housed in the main art building of the Lamar Dodd School of Art, the Photography area occupies over 7,000 square feet, spanning two floors. Constantly responding to changes in technologies is paramount to the program; the department has a deep commitment to analog and digital technologies and the intersections of the two.
The department currently houses five large-format printers, two Imacon scanners, a computer lab with sixteen 27" iMacs, and numerous smaller-format printers and other peripheries. We have one large group darkroom with eighteen stations, six private darkrooms with sinks accommodating 16" x 20" print processing (150 sq. feet each), two JOBO film processors, and a new finishing studio that contains a 44" and 24" Xyron Pressure Laminator and a 60" wall mounted board cutter. Equipment is available for checkout, and contains over 200 items. On the third floor, students have access to a 500-square-foot, north-facing studio, fully stocked with Profoto equipment and seamless backdrops for studio projects. Adjacent to that space is a project space with 30 linear feet and gallery lighting for short-term installations and projects.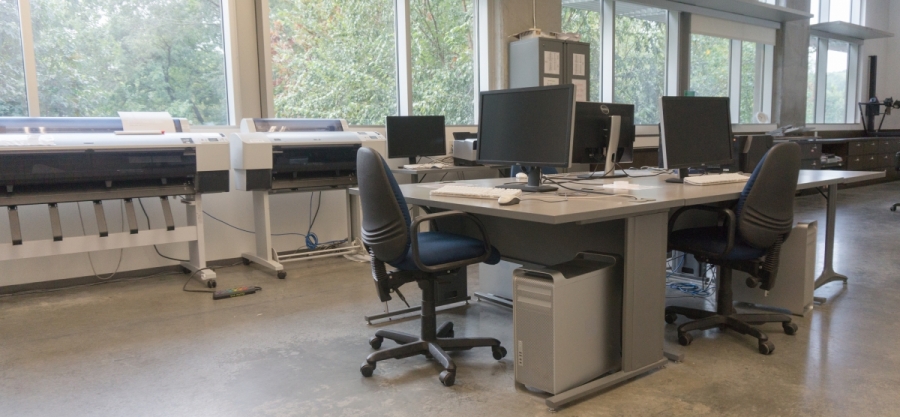 ---
Jewelry & Metals 
Graduate Facilities
24-hour access
Relocated to newly renovated, 3,000 square foot facility in 2011.
800-square-foot, semi-private workspaces with individual work areas. Each space includes: a jewelers bench, industrial maple-top worktable and ample storage, individual soldering areas with Smith torches.
Computer with Rhino, printer, enameling kiln, dumore drill press, large drill press, PUK welder, anvils, and vises. 
Main Studio
The adjacent main studio is generously equipped with: small hand tools, an extensive selection of metalsmithing hammers, acetylene and natural gas torches for soldering and welding, rolling mills, a variety of shears, 20-Ton Bonny Doon hydraulic press, sand blaster, grinders, belt sanders, flexible shafts, Dumoure drill presses, polishing wheels, wire drawing bench, PUK welder, mini lathe, band saw, ultra-sonic cleaner, and drum finishers.
In addition to our main studio, our facilities offer separate dedicated studios configured for specific processes such as:
Centrifugal casting which includes vulcanizing, wax injection units, and particulate ventilation for the investing process.
Metalsmithing studio is furnished with vast variety of stakes, stumps, anvils, vices, and an extensive array of hammers for silversmithing and blacksmithing. Located in this area is a ventilated pitch station and a large-scale ventilation hood for annealing large work with our natural gas annealing torch.
Enameling, small- and large-scale powder coating setup, etching booth, and patina station. Equipment in this studio includes Vecella and Pargon enameling kilns, Blue M ESP400A Industrial oven for powder coating, and Ferric Chloride etching baths.
Our Photography studio is equipped with professional studio lightening, DSLR camera, and everything students need to prepare professional quality images of their work.
---

Ceramics Building
The graduate ceramic studios are housed in a spacious 15,000-square-foot building built in 2012 adjacent to the main School of Art building. All undergraduate studios, faculty studios, and kilns are in this space. Graduate students have their own kiln room with access to all the other kilns, including two atmospheric kilns, six downdraft gas kilns, one 90-cubic-foot car kiln, clay making room, glaze room, and computer lab. 
The graduate studio is divided into four large spaces with moveable walls and shelving units. See interior images here.
---

Science Illustration
Science Illustration has two classrooms, both of which are around 500 square feet. One classroom is a studio with 18 drawing tables. 
The second classroom is a digital laboratory with 13 large screen iMacs with wacom tablets. There are four small-format Epson printers, one large-format Epson printer and 13 stereomicroscopes.
---
Interior Design
Broad Street Studio 2
The Interior Design building provides a studio environment facilitating the design and exploration of the built environment. At the core of the building is a suite of three large studios that open into each other, providing the specific instructional environments needed for classes early in the curriculum and offering task-specific spaces responsive to the ebb and flow of project activities later in the curriculum. The three studios can be summarized as hand, digital, and team. The first supports hand drafting, drawing, and modeling techniques; the second supports computer-based explorations from digital imaging, through computer-aided design and building information modeling, and on to time-based media; and the third supports discussions, team meetings, and large-scale modeling.
Broad Street Studio 2 includes a number of program support spaces:
project critique space,
traditional wood working shop focused on model building,
digital modeling shop with a laser cutter and 3D printer,
dedicated graduate student studio, including a reference library and faculty offices and studios.
---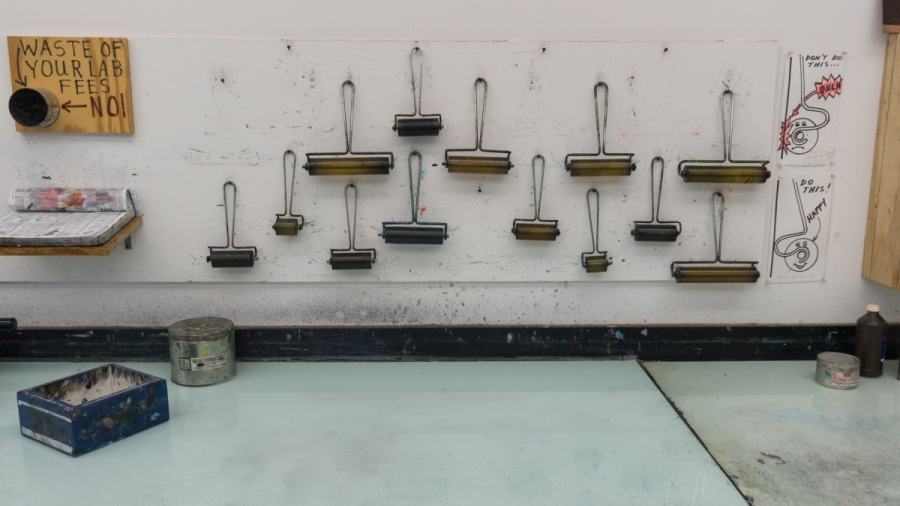 Printmaking & Book Arts
The Printmaking and Book Arts program at Lamar Dodd offers world-class facilities and resources enabling research in a variety of print, paper, and book arts media. The graduate program has private studios for up to eight MFA candidates. The Area occupies six separate studios on two floors occupying over 11,000 square feet of floor space. Nearly all of our main studios offer large windows with natural lighting and excellent ventilation. See more images of Printmaking spaces here.
Graduate & Faculty Studios
Private studios for faculty and graduates surround nearly 2,000 sqare feet of shared space with a composition and printing area as well as critique and lounge space for graduate students. The Graduate and Faculty Studio houses a 36"x72" Takach Intaglio/Relief Press, a 32"x60" Takach Lithography Press, and 48"x60" TMI Vacuum Screen Table with a false arm. There is also a drying box for flattening prints up to 30"x44". The critique and lounge area has a built-in digital projector for looking at art and videos.
Digital Output Lab and Archives
Our Digital Output Lab is equipped with three large-format archival ink jet printers. An Epson 7880 capable of printing up to 24" wide as well as an Epson 9880 and 9800, each capable of printing up to 44" wide. We also have an Epson large-format flatbed scanner, a Graphtech 24" Vinyl Cutter and Cannon laser printer, and four 22" iMacs.  
Lithography Studio
A 1,000-square-foot studio in which Introduction to Lithography is exclusively taught. There are two Takach Lithography presses, a 32"x60" and 24"x50." This room also houses our selection of lithography stones, a large graining sink, and a large oven for curing toner washes.

Intaglio and Relief Studio
This is a 2,000-sqare-foot studio, which functions as the hub of our undergraduate program. This studio has a Takach 36"x72" Intaglio/Relief Press, a 32"x60" Takach Intaglio/Relief Press, and 24"x52" French Tool intaglio press. This studio houses our ferric chloride baths, of which we have two; a vertical bath for etching plates up to 18"x24," and a large horizontal bath for plates up to 36"x24". 

Screenprinting and Darkroom
Our devoted Screenprinting studio, approximately 1,500 sqare feet, is equipped with multiple fixed and mobile printing stations. There is a large 48"x60" Cincinnati Vacuum Screen Table with a false arm. The adjacent darkroom facility is well equipped for nearly all photomechanical printing processes. We have two vacuum exposure units for screens: a large Lawson 48"x72" and a NuArc 30"x40". We also have 38"x45" Rotary Top Nuarc Platemaker for Photo-litho and Photo-etching processes and a Photo-Polymer Platemaker for letterpress. In the adjacent room there is large AWT screen-drying cabinet, a screen-stretcher and backlit washout booth for cleaning and developing screens.
Letterpress Studio
Located on the 2nd floor next to the grad/faculty studio, the 1,000-square-foot studio holds a selection of lead and wood typefaces and three motorized Vandercook presses: Vandercook #4, Universal I, and a Universal III. There are also two showcard proof presses. We have an Anderson Vreeland Orbital VIII A3 photopolymer platemaker and three Boxcar bases for plastic backed plates: 7" x 9", 12" x 16", and 17" x 22".
Papermaking and Book Arts
Located on the 1st floor with 1,700 sqare feet of space, the Papermaking and Book Arts studio houses a beautiful 2 lb. Reina beater and related papermaking equipment. The studio supports sheet forming as well as sculptural paper projects. There are seven nipping presses, one standing press, and a job backer. We have a 44"x30" size Kutrimmer, sewing frames, and one lying press.  
CNC Router, Laser Cutter and 3D Printing
The School of Art possesses a range of digital fabrication technology, all of which is accessible to graduate and undergraduate students. There are also nearby Open Education Resource labs, which offer similar equipment and provide access to all UGA students and faculty.
Project Space 
Across the hall from the Graduate & Faculty Studio is our Project Space. This room is multi-functional and is used for staging, installing, exhibiting, and critiquing work. This space can be reserved by faculty, graduates, and undergraduate majors for as little as one day and up to two weeks.
---

Painting & Drawing 
Housed in the Lamar Dodd School of Art Main Building on east campus and the Broad Street complex on north campus the Painting and Drawing area occupy over 17,500 sqare feet of floor space. Nearly all of our studios offer natural lighting and excellent ventilation.
Graduate Studios
Painting and Drawing Graduate Studios is a designated complex within the painting and drawing wing on the 3rd floor south of the LDSoA Main building. We have fifteen 24/7/365 access private studios with permanent walls, fume evacuation vents, and locking doors for all graduates. Nine studios (150 square feet) boast beautiful woodland views south via facing glass curtain walls while six studios (175 square foot) on the interior have no windows for those who prefer controlled-lighting spaces. The studios are all linked to 400-square-foot graduate gallery space and a 1,500-square-foot critique/project space, adjacent to a kitchenette with the essential refrigerator, coffee makers, toaster, and microwave. Graduates also have a shared 300-square-foot storage space located down the hallway.
As of 2016–17, 500 square feet is dedicated graduate and faculty community HUB/space, open to all grads across departments to foster discussion, collaboration, and society. Lounge furniture, computers and printers, magazines, and books invite casual and creative interaction.
Digital Labs Graduate students have access to computer labs with state of the art Macintosh workstations equipped with graphic, word processing, software, and small- and large-format color printers. Students also have additional access to digital cameras, a video camera, video projectors, sound equipment, and other A/V equipment.
Painting and Drawing Project Space 
Within the graduate Painting and Drawing space is our Project Space. This room is multi-functional and is used for staging, installing, exhibiting, and critiquing work. This space can be reserved by faculty, graduates, and undergraduate majors for as little as one day and up to two weeks.
Seminar space
A 400-square-feet flexible seminar space outfitted with large conference table and seating for 18+, mobile computer cart, and built-in digital projector for digital presentations, web access, etc.
Undergraduate Painting and Drawing Studios
Studio Classrooms / Main Art building
Out of five undergraduate studios we have four spacious, fully equipped, approx. 1,000-square-foot, flexible-purpose studio/classrooms with high ceilings and dramatic floor-to-ceiling south wall windows, providing northern exposure for classes in painting and drawing. Our Figure Painting studio has no windows but is designed with several lighting options to provide for a variety of conditions, including a flexible boom light and mobile model stage with its own lighting apparatus. All studios have multiple sinks, fire cabinets. Drawing horses, tables, and larger A frame easels are available in the Drawing studios.
Broad Street 3 Studio
Our senior-level painting and drawing undergraduate majors have 24-hour access to private studios during the fall and spring semesters of enrollment at our North campus location in downtown Athens.
The space is divided into 15 private 115-square-foot studios, with a shared sinks, fireproof cabinets, hazardous waste and recycle disposal receptacles, easels, refrigerator, microwave, and coffeemakers. Broad Street 3 also has a 1000-square-foot open classroom space for critique, discussion, and demonstrations, and an additional 400-square-foot workspace for larger projects and video presentations.
Stretcher/Hybrid Woodshop
All painting and drawing students also have access to a fully outfitted wood shop in the main Dodd building with additional access to a more robust woodshop located in the sculpture studios on North Campus.
Critique Space: 300 sq. ft.
A 300-square-foot critique space off our main corridor is used by all levels of the Painting and Drawing Area for display and discussion of program course work and special projects.
Storage, Storage Racks and Spray Booth
In addition to ½ size private lockers on the main corridor, a centralized 650-square-foot rack room provides undergraduates storage for images both large and small. A large mobile 40" x 50" steel drying rack for paper media projects is available. Within the rack room is housed a large spray booth for using air-born toxins. Additional fireproof cabinets, hazardous waste, and recycle disposal receptacles are also housed in this space.